Up to 20% annual growth seen for optical networking
Oct 1st, 2004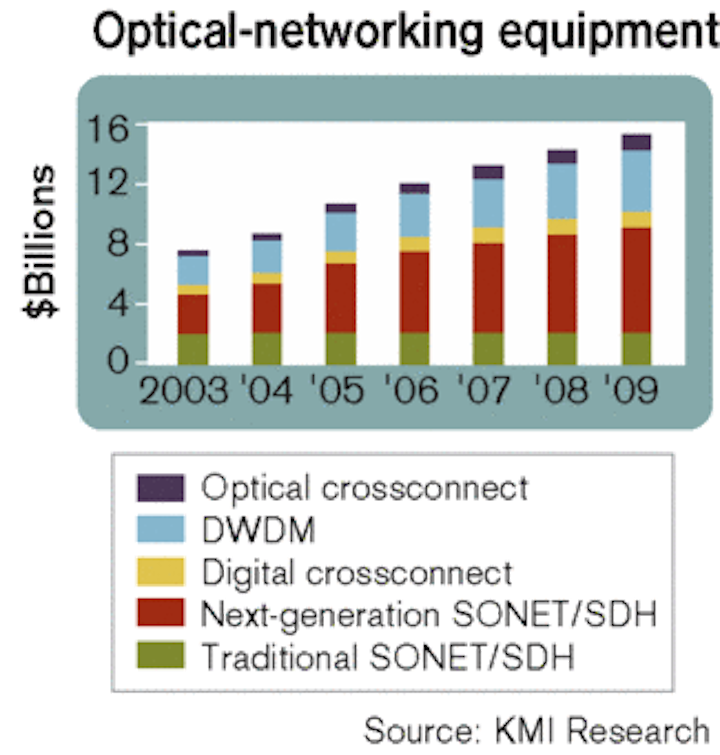 The optical-networking (ON) market will exhibit double-digit growth from 2004 to 2006, reveals a new study from KMI Research (Providence). Through 2009, the ON market, which includes SONET/SDH, DWDM, digital-crossconnect, and optical-crossconnect equipment, will grow at a 12% CAGR, jumping from $7.6 billion last year to $15.3 billion by 2009.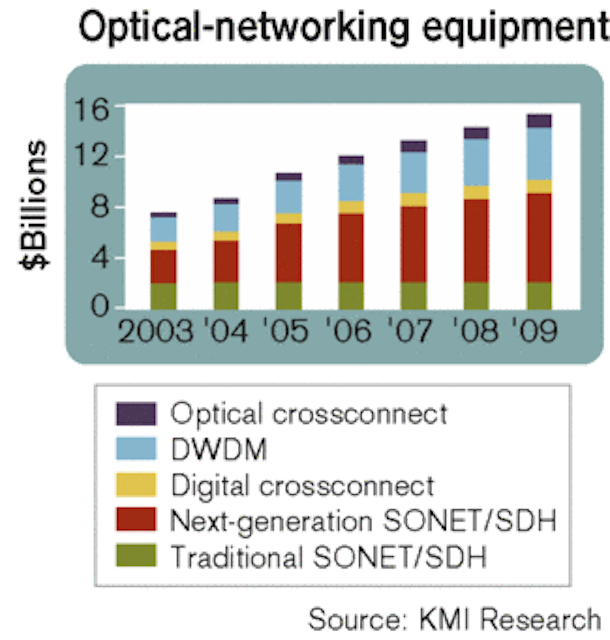 Although metro or short-distance applications were strong last year, the long-distance segment will show a healthy near-term bounce for some products such as DWDM, because systems installed a few years ago are now filling up. This market is driven by bandwidth demand, which is growing at slower rates than in previous years-but still fast enough to force new equipment deployments as capacity limits are reached.
"With carrier capital spending getting stronger, and with the introduction of increasingly versatile transmission equipment, the optical-networking market is returning to annual growth rates in the range of 10% to 20%," contends Richard Mack, vice president and general manager of KMI. "More important, we believe that these growth rates are reasonable and 'healthy' or sustainable, given the input we've had about bandwidth requirements and budget expectations."
The report, "Optical Networking: Worldwide Equipment Markets Update for 2004," is based on a survey of more than 225 individuals with network operations or purchasing responsibilities at telecom carriers as well as interviews with suppliers. For more information, visit www.kmiresearch.com.