By ROBERT PEASE
NETWORKS
Through the development of new fiber-optic technologies over the last few years, the obstacle of the Atlantic Ocean to U.S.-European telecommunications is quickly being reduced. No fewer than a dozen transatlantic fiber cables currently transport data, voice, and video traffic "across the pond"-with bigger and better cables planned to begin operations in the months ahead. FLAG Atlantic-1 (FA-1), a 50/50 joint venture of FLAG Telecom (London) and Global Tele Systems Group Inc. (GTS-Washington, DC), intends to be the world's first terabit dual cable system to span the Atlantic.
FA-1 successfully landed its shore-end cables in Cornwall, UK, to mark the beginning of the marine installation activity for the project. The landing was the first step in establishing links to France and the United States. The project is currently on track to enter commercial services in less than six months, according to Ed McCormack, director of FA-1 and chief operating and financial officer for FLAG Telecom. With all this transatlantic infrastructure, it's logical to assume competition will be steep to sell capacity, but apparently that assumption is wrong.
"The transatlantic region is a competitive environment, but FA-1 has far surpassed the planned sales at this point in the development," says Steven Andrews, president of the GTS transoceanic services division. "FA-1 sold more than one-half its capacity more than six months before commercial service. We currently have several customers interested in purchasing fiber pairs."
If those sales materialize, the venture will have sold 85% of its entire capacity without lighting a single fiber. Andrews says that if five fiber pairs are sold, he anticipates the entire system capacity would be sold shortly after beginning commercial services.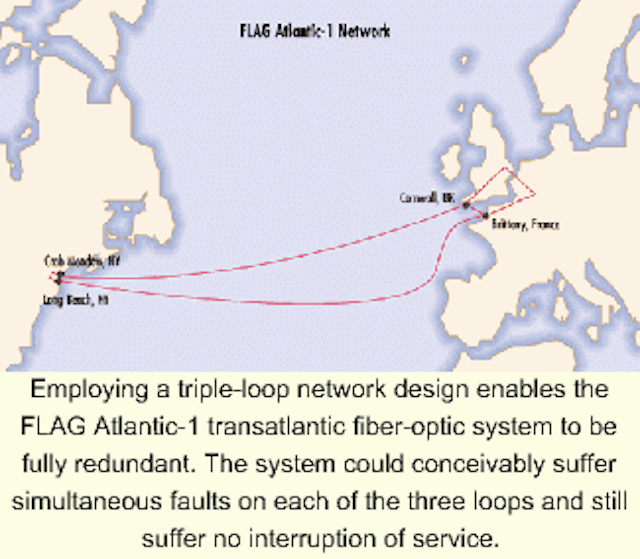 Employing a triple-loop network design enables the FLAG Atlantic-1 transatlantic fiber-optic system to be fully redundant. The system could conceivably suffer simultaneous faults on each of the three loops and still suffer no interruption of service.
Once completed, FA-1 will be a loop system, connecting the East Coast of the United States via two nodes in midtown and downtown Manhattan to two landings in Europe: Brittany, France, and Cornwall, UK. The entire FA-1 system will consist of three self-healing, high-capacity loops that will have dual access points to GTS's pan-European network and FLAG Telecom's existing 28,000-km cable system from the United Kingdom to Japan.
The two undersea cables are approximately 6,000 km and 6,500 km, while the two terrestrial rings are about 120 km and 1,850 km in length. Overall, the FA-1 system will extend about 14,500 km.
The joint-venture cable system, originally announced in January 1999, has already managed to take advantage of technological advances and an insatiable demand for transatlantic capacity, even before laying its first undersea cable. Previously announced at 320 Gbits/sec per fiber pair, or 1.28 Tbits (see Lightwave, March 1999, page 1), the cable's capacity was completely committed in just nine months. Therefore, in October 1999, the joint venture nearly doubled the planned capacity for FA-1 to 2.4 Tbits/sec.
Equipment has also improved through technology advancements, enabling further advantages. "The design of the amplifier has changed," says Frank Denniston, chief technology officer at FLAG Telecom. "The distance between each repeater segment is shorter. This allows us to go from 32 to 40 wavelengths, on top of adding two fiber pairs, taking the system from 1.2 to 2.4 Tbits/sec. We're also using an optical protection switch for our SDH customers, a new technology application."
The all-optical protection switching system is part of a multimillion-dollar contract awarded to Alcatel to build both the terrestrial and submarine portions of FA-1. Under the terrestrial contract, Alcatel is providing DWDM equipment capable of achieving capacities of 80 channels per fiber pair at 10 Gbits/sec each, along with SDH equipment and a network-management system. FA-1 will also be the first to deploy Alcatel's all-optical protection switching system, capable of selectively protecting the network, channel by channel.
On the submarine side, FA-1 will use laser-generated light to transmit digital information over six fiber pairs. Despite outfitting substantially more points-of-presence areas and additional equipment associated with the three-fiber-pair sales, the project remains on budget. In fact, Andrews believes FA-1 will ultimately come in under budget. The system is scheduled to provide unprotected services by the first quarter of 2001, with the full loop providing fully redundant services by the end of June 2001.