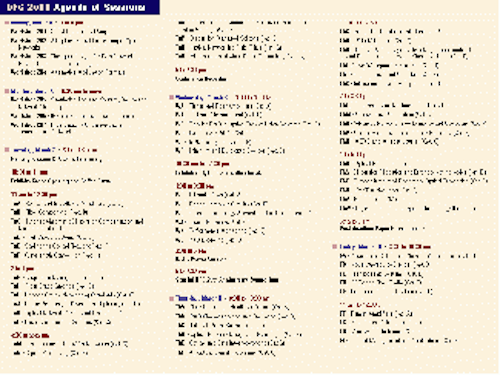 The 25th annual Optical Fiber Communications (OFC) Conference will usher in the millennium March 5-10 at the Baltimore Convention Center. This year's program spans topics ranging from the huge demand for more system capacity to enabling ad vances in underlying component technologies and from new networking architectures to the latest methods for combating fundamental transmission impairments.
The technical and commercial programs will cater to students and newcomers in the fiber-optic communications field as well as to the seasoned industry professional. OFC 2000 is sponsored by the Institute of Electrical and Electronics Engineers (IEEE)/Communications Society, the IEEE/Lasers and Electro-Optics Society, and the Optical Society of America (OSA).
The technical program includes a plenary session, eight tutorials, three commercial technology sessions, an extensive selection of 65 short courses, seven workshops, and a wide array of more than 350 oral and poster technical presentations. Meanwhile, more than 400 companies will exhibit the very latest in fiber-optic technologies, including product presentation sessions to demonstrate cutting-edge research and applications. Exhibit hours are: Tuesday, March 7, 10:30 am to 5:30 pm; Wednesday, March 8, 9:30 am to 5:30 pm; and Thursday, March 9, 9:30 am to 4 pm. Dedicated exhibit-viewing time, refreshment breaks, prize drawings, and several new attractions will be featured in the exhibit hall.
An additional feature of this year's conference is a special symposium honoring the 25th anniversary of OFC that will trace the history of fiber in communications. Speakers will present their perspectives on key advances leading to the development of today's fiber-optic technology. This session will include an entertaining narrative by Tingye Li, past OSA president. The symposium will be Wednesday evening from 5 to 7:30 pm following the poster session.
This year's plenary theme, "Changing the Face of Telecommunications," will feature three keynote speakers. They will address the revolutionary impact of the bandwidth explosion, new technologies such as dense wavelength-division multiplexing, the convergence of voice and data services, and the associated new commercial opportunities and challenges.
George Gilder, a leading futurist, chairman of the GilderGroup and editor of the Gilder Technology Report, will speak on "Telecosm," a general project at the Discovery Institute designed to describe the future of telecommunications. Gilder is a senior fellow at the Discovery Institute, where he directs a program on high technology and public policy.
Clayton Christensen, a professor at the Harvard Business School and author of The Innovator's Dilemma, will speak on "A Disruptive View of Disruptive Telecommunications Technologies." Christensen will examine the challenges facing incumbent players in the telecommunications market. He will discuss how disruptive technologies, such as Internet telephony, electric vehicles, digital photography, the Palm Pilot, and Java software protocols, could seriously affect the fortunes of many of today's strongest institutions.
Vinod Khosla, the founding chief executive officer of Sun Microsystems and now a general partner at the venture firm of Kleiner Perkins Caufield and Byers, will address "The Terabit Tsunami." Khosla will describe the bandwidth revolution from the perspective of a venture capitalist.
The plenary session will also include presentations of the 13th John Tyndall Award and OSA, IEEE/LEOS, and IEEE/Communications Society fellowships. The award honors the memory of John Tyndall, a distinguished teacher and physicist who was the first to demonstrate the concept of total internal reflection, the phenomenon responsible for light guidance in many types of optical fibers.
There will be seven workshops held during OFC 2000, all in a participatory format. The cost is $35, but paid conference registrants may attend the workshops for free. Sunday, March 5, offers a choice of four workshop topics that will be held from 1 to 5 pm. The four topics include low-cost (below $1000) optical amplifiers, all-optical signal processing, basic structure and function of the optical layer for data networking, and alternative modulation formats.
On Monday, March 6, two more workshops will be offered from 8:30 am to noon. The first will cover simulation tools for system, device, and network modeling. The second will discuss benefits, issues, and implementation examples of implementing direct interfaces from service platforms to the optical layer. The last workshop will be held from 1 to 5 pm and address the need for higher capacity in undersea cable transmission networks.
Eight tutorials will be held as part of the technical program within the conference. They will begin at 8:30 on Monday with "Chromatic dispersion compensation and measurement." Tutorials will run through Thursday, concluding with "Integrated devices for optical processing" at 4 pm. Other topics include optical networking standards, fiber gratings, optical transmission systems, alternatives for 10-Gbit/sec local area networks (LANs), WDM sources, and optical layer networking.
Sunday and Monday, March 5-6, the conference offers a wide variety of short courses designed to familiarize the student with a new topic in fiber-optic technology or to use as refreshers for basic knowledge. The short courses range in duration from two to four hours. Some topics include WDM components, optical amplifiers, broadband switching, multiwavelength optical networks, and connectors. A hands-on workshop on photonics will be offered twice on both days from 9 am to 1 pm and 2 to 6 pm.
Oral presentation for contributed and invited papers will be presented Tuesday through Friday morning. These presentation will cover topics in seven main categories: Category A - Fibers, fiber amplifiers, and propagation; Category B - Fiber and waveguide components; Category C - Optoelectronic devices; Category D - Digital transmission systems; Category E - Subsystems, network elements, and analog systems; Category F - Network switching, access, and routing; and Category G - Applications.
The poster session, a major attraction at recent conferences, will be held from 3:30 to 5 pm on Wednesday in the Pratt Street Lobby of the Baltimore Convention Center; light refreshments will be served. Each author is provided with a 4x8 board on which to display the summary and results of their paper. Authors will make themselves available to answer questions from the attendees.
Finally, OFC 2000 will present a commercial technology program involving three sessions designed for the business or commercial end-user to tackle complex and fast-developing business issues in the fiber industry.
The technology sessions are Wednesday from 1:30 to 4 pm and will center on optical fiber technology and applications. The development sessions, Tuesday from 2 to 4 pm and Wednesday from 8 am to 10 am, will provide insights into starting or owning a high-tech business. These sessions will cover topics ranging from obtaining venture capital to guidance on the patent process.
Registration for OFC 2000 begins Saturday, March 4, from 4 to 8 pm. The registration desk will be open Sunday through Tuesday from 7 am to 5 pm; Wednesday and Thursday from 8 am to 5 pm; and on Friday from 8 am to noon. The registration desk is located in the Charles Street Lobby of the Baltimore Convention Center.