January 9, 2003--Directed Energy Inc. (DEI), developer of advanced laser diode drivers, pulse generators, and RF semiconductors, has introduced the PCX-7410 benchtop instrument driver for laser diodes, laser diode bars, and arrays for pulsed, Quasi Continuous Wave (QCW) or Continuous Wave (CW) modes.
The PCX-7410 diode driver/current source delivers current pulses variable from 10 mA to 10 A, pulse widths variable from 50 nanoseconds to 500 milliseconds with rise times < 30 nanoseconds, and pulse repetition frequencies variable from single shot to 100 KHz (1 MHz when externally triggered) and CW. The output polarity of the PCX-7410 is user-selectable via the front panel or computer interface, accommodating both common anode and common cathode laser diodes, explain company representatives.
The PCX-7410 provides both pulsed/QCW and CW (DC) outputs. It can serve as a CW driver at currents from 10 mA to 5 A, and as a pulsed/QCW driver at currents from 10 mA to 10 A. Furthermore, the output may be biased to any CW current from 10 mA to 5 A, then pulsed above this bias current at up to 10 A maximum.
For automated applications, complete control of the driver is provided through both an RS-232 and a GPIB computer interface. Up to five system configurations may be stored in internal non-volatile memory, providing instant recall of frequently used configurations.
"The PCX-7410 offers the unique capability of both pulsed (QCW) and CW operation in a compact, benchtop instrument," asserts Ron Sherwood, president of DEI. "With a pulse width range of 50 ns to DC, and maximum output power approaching 200 W, it sets a new standard in instrumentation laser diode drivers."
The power and versatility of the PCX-7410 make it an ideal choice for applications such as diode pumping of solid state lasers, laser diode and LED characterization and testing, and laser systems R&D.
For more information about Directed Energy Inc. (Fort Collins, CO), visit the company's Web site at www.directedenergy.com.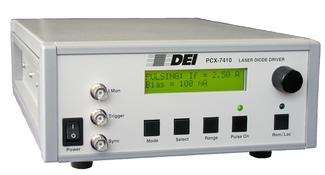 The PCX-7410 benchtop instrument driver for laser diodes, laser diode bars, and arrays for pulsed, Quasi Continuous Wave (QCW) or Continuous Wave (CW) modes