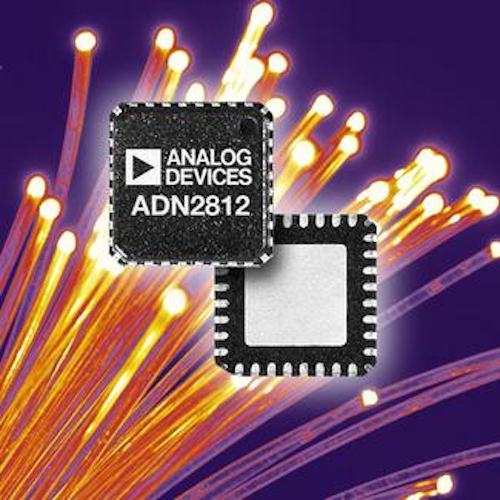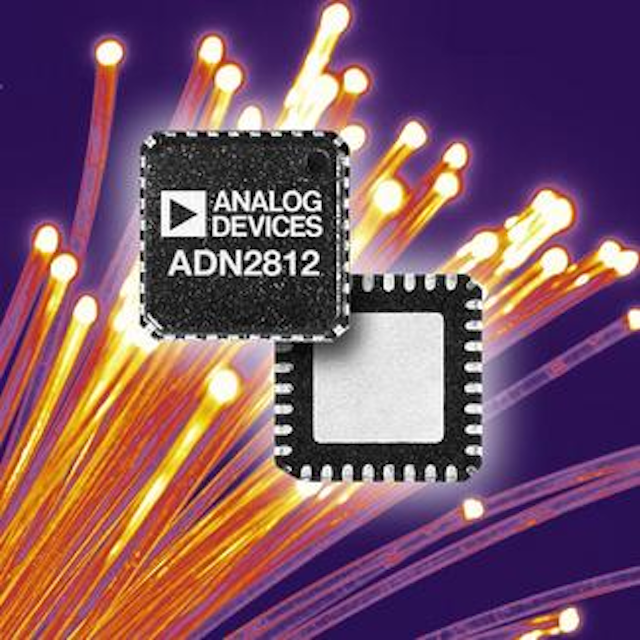 The ADN2812 tuning clock and data recovery IC
3 April 2003 Norwood, Ma Lightwave--href=http://www.analogdevices.com>Analog Devices Inc. recently introduced five new transmit/receive and monitoring/control integrated circuit (IC) solutions that provide important design alternatives for the development of components and modules for optical network systems.
The new ICs for transmit and receive applications include the ADN2812, a continuous tuning clock and data recovery IC, and the ADN2849 and ADN2859 10.7-Gbit/sec external modulators. The new ICs for monitoring and control applications include the ADN8820 single-chip, continuous wave (CW) laser controller; the ADN2860 three-channel, non-volatile, digital potentiometer; and the ADL5306 logarithmic converter for measuring optical power signal levels.
Transmit and receive ICs enable MSPPs and next-generation SONET applications
The ADN2812 is a continuous tuning clock and data recovery IC for multi-service provisioning platforms. It can be designed into equipment today and can accommodate changing bit rate requirements in the future. Featuring the exclusive data rate Read Back feature, it can lock onto any incoming data rate between 10 Mbits/sec and 2.7 Gbits/sec without the need for an external reference clock--while providing the acquired data rate frequency through the I2C port. The ADN2812 is ideal for-next generation protocol and data rate agnostic equipment that operates over Ethernet and SONET/SDH OC-1/3/12/48 and all associated FEC rates, say company representatives. The ADN2812 also is appropriate for multi-service provisioning platforms (MSPPs), WDM transponders, test equipment, backplanes, regenerators/repeaters, broadband cross-connects and routers.
According to Analog Devices, the ADN2849 and ADN2859 are the only 10.7-Gbit/sec external modulator drivers for CW lasers that address the small size, low power, integration, and performance requirements for high-density systems. The ADN2849 provides a 3-V single-ended output to drive an electro-absorption modulator. The ADN2859 provides a 6-V peak-to-peak differential output to drive a differential Mach-Zehnder modulator. Both IC drivers feature a power dissipation of 900 mW (2-V swing, 1-V offset), which is typically one-third less than other solutions. Both devices are available in small 4 mm x 4 mm LFCSP packages and as unpackaged die.
Monitoring and control ICs improve DWDM systems
The company claims its ADN8820 is the first fully integrated single chip CW laser controller for optical transmitters, transceivers, transponders, and pump laser control in EDFA and Raman amplifiers. The new controller improves CW laser accuracy by offering a complete control loop solution enabled by its proprietary
high speed, high efficiency, and low noise switch mode output stage. Available in a single 7 mm x 7 mm LFCSP IC, the ADN8820 also simplifies designs by reducing component counts and costs.
The ADN2860, meanwhile, is a three-channel, non-volatile, digital potentiometer that provides the lowest drift available in a multi-channel potentiometer with I2C interface, say company representatives. Designed for laser modules used in transmitter and transceiver applications, the IC's low drift (30 ppm/ ° C) allows more accurate control loops with low temperature drift.
The ADL5306 60-dB logarithmic converter is a single IC that will measure optical power signal levels in a variety of fiber-optic network elements, including transceiver modules, add/drop multiplexers, and tunable lasers. With a linear response accurate to 0.1 dB, its 60-dB range is sufficient for less demanding requirements and offers a price-competitive alternative to less accurate transimpedance amplifier measurement approaches.
The ADN2812, ADN2860 and ADL5306 are currently sampling. The ADN8820 and ADN2849/59 will be sampling in Q3 2003.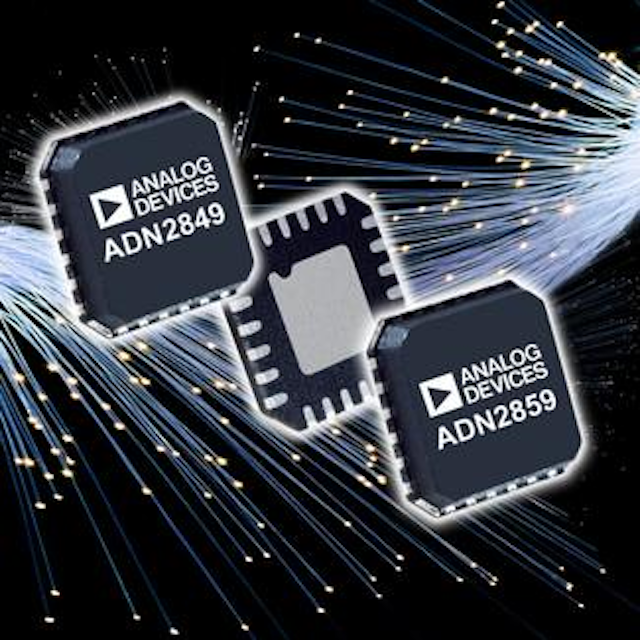 The ADN2849 and ADN2859 10.7-Gbit/sec external modulators