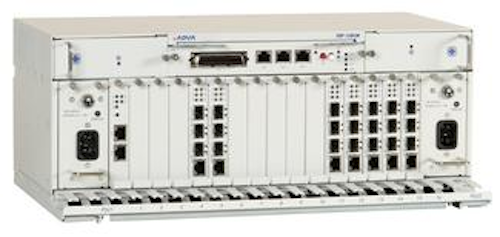 APRIL 30, 2008 By Meghan Fuller Hanna -- ADVA Optical Networking (search for ADVA Optical Networking) yesterday unveiled what it claims is the industry's first carrier-class modular Ethernet Network-to-Network Interface (search for NNI) demarcation device.
The FSP 150CM performs an analogous function to the company's existing Etherjack demarcation device, which facilitates the customer-to-carrier Ethernet service handoff. The new device, by contrast, facilitates carrier-to-carrier or intra-carrier handoffs.
"This is all about scale," explains Fred Ellefson, vice president of global marketing at ADVA Optical Networking. "As you move into larger scale applications like wireless backhaul, you start talking about 500 and 1,000 nodes in a given city that might go back to a mobile switching center--and then needing a bulk handoff at that switching center."
"There's been a lot of work in the standards to retrofit Ethernet for the WAN," he adds, "and one [of those efforts]--Connectivity Fault Management--lets you partition the network into a whole bunch of maintenance regions. With NNI demarc devices like the CM, you now have a natural point that you can test to and monitor to," he says.
The FSPÂ 150CM simplifies provisioning across multiple network platforms, says the company, including Virtual Local Area Network (VLAN), Provide Backbone Bridging-Traffic Engineering (PBB-TE) and Multiprotocol Label Switching (MPLS). The device can also be configured to a high level of transparency to satisfy the needs of Ethernet local loop providers that are required by their customer base to deliver transparency.
ADVA says the FSP 150CM enables the evolution of Ethernet from a service into a transport infrastructure capable of replacing traditional transport technologies, like SONET and TDM. Other functions include the ability to:
• Terminate multiple Ethernet local loops in one unit;
• Perform inter-carrier handoffs;
• Aggregate management traffic from up to 16 remote sites;
• Reduce space, power, and cost; and
• Reduce capital and operational costs.
The FSP 250 CM also brings the ability to manage the network across 500 or 1,000 end points, says Ellefson, who admits that, as an industry, we tend to gloss over management challenges. "With the CM, we now provide a single point that you can plug your management network into and manage not only the CM but all the subtended demarc or Etherjack devices that might be hung off it," he explains.
From a standards perspective, the Ethernet NNI is still a work in progress, but ADVA is not particularly concerned about coming to market with a pre-standard product. "We've always done our products with FPGA-type designs that let us upgrade the data paths while they are out in the field," Ellefson reports. "That gives us the ability to be future-proof as far as the standards go. But at the same time, there are people deploying these wholesale Ethernet networks, and what they end up doing is a whole lot of custom engineering between one carrier and another."
"I expect we'll have a whole bunch of competitors jumping on the bandwagon," he concedes. "It's kind of an obvious network need."

Visit ADVA Optical Networking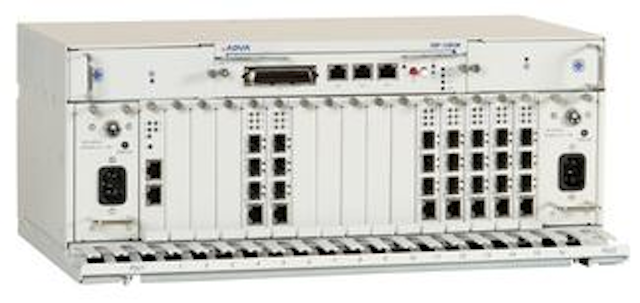 The FSP 150CM is optimized for the headend locations where carriers need to handle multiple Ethernet local loops.