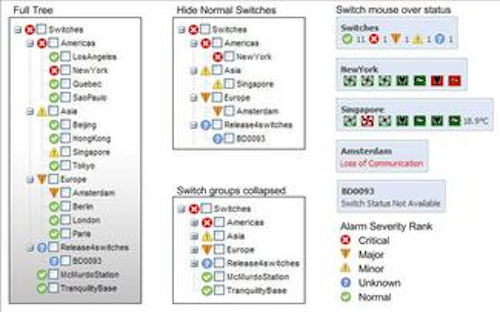 MAY 1, 2008 By Meghan Fuller Hanna -- Glimmerglass (search for Glimmerglass) this week announced the new Glimmerglass Console, a server-based software product that enables a large number of photonic cross connects to be managed from a single location, remotely over the Internet.
Addressing telecom requirements, the new server-based Glimmerglass Console offers centralized management for complex, multi-switch environments, enabling users to manage and control thousands of ports over hundreds of individual switches across a wide area--versus managing a single switch.
"We basically create optical paths, we monitor them, and we protect them should they fail," explains Robert Lundy, president and CEO. "That's what Glimmerglass does. With the console, we now do remote create, monitor, and protect across a wide area, managing multiple of these various points of presence country-wide or region-wide."
Working in conjunction with the Glimmerglass ClickFlow GUI interface, the Glimmerglass Console provides administrators with the ability to monitor traffic and optical performance throughout a network, detect and isolate failed connections, and configure fail-over paths to route around broken fibers or problematic line interface electronics.
"We estimate that there are probably 100,000 points-of-presence or more worldwide in locations where they can either send someone for repairs with a truck for $1,000 - $2,000 a visit and maybe 50 visits per year, is what the carriers are telling us," Lundy reports. "Plus four hours of downtime for their high-capacity light streams, 10- and 40-Gbit circuits. Using Glimmerglass to monitor, protect, and manage this fiber infrastructure and these points of presence, they've dramatically cut their operating costs and obviously they've lowered the risk and lowered the downtime they would face."
Lundy also sites the management console's virtual private switch feature as a key capability. Say a service provider has a point of presence (PoP) on the north coast of the U.K., says Lundy, and that provider wants to introduce a new feature or connection. Using the console, the network administrator can partition or carve out part of the switch to do prototyping and testing, and it will look, to the administrator, like a separate, standalone box on the north coast. Moreover, it does not interfere with the operating side.
"In a sense, it's a window where you can say, 'Out on that facility or any of those facilities, I want to carve out a section of ports to create, virtually, my own separate switch to play around with until I'm comfortable introducing this new capability,'" Lundy explains. "And when they are finished with [the virtual private switch], they can reintroduce it back into the operating systems; those aren't ports that are lost permanently just to testing and evaluating."
Lundy confirms that the Glimmerglass Console has already been shipped to two customers and is currently supporting live traffic. One of these customers is in the defense industry while the other is a major European telecom carrier.

Visit Glimmerglass Networks Inc.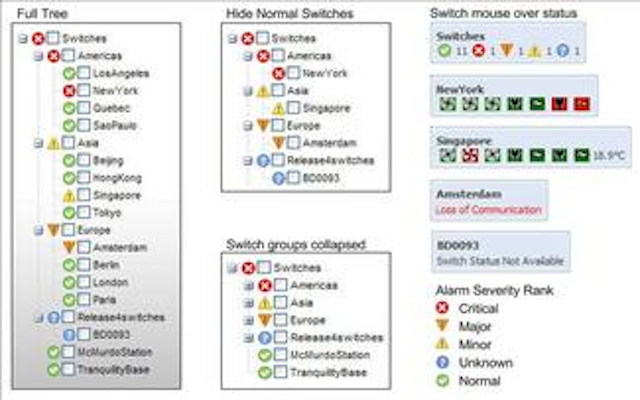 In conjunction with the Glimmerglass ClickFlow GUI interface, the new management Console provides administrators with the ability to monitor traffic and optical performance.