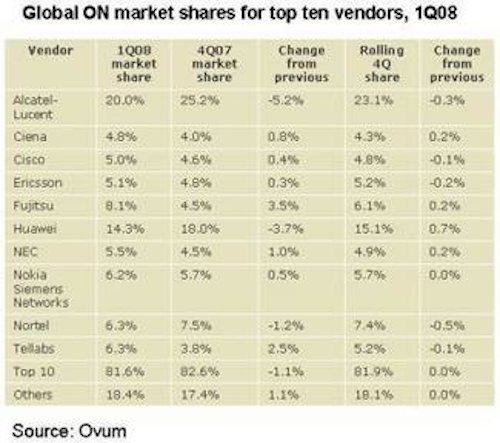 MAY 13, 2008 -- According to preliminary quarterly results for global optical equipment networking vendors, Ovum says that the global optical networking (ON) market topped $3 billion for the seventh consecutive quarter. After an exceptionally strong showing in 4Q07, the market dropped 12% sequentially -- but that result still represented a gain of 23% year-over-year.
"The sequential decline, particularly after a super-hot 4Q07, was expected, while the strong growth over 1Q07 points to continued strength in spending for ON gear used for consolidating disparate services onto a single network and supporting growth in broadband consumer and enterprise services," said Ovum's vice president, optical networking, Dana Cooperson. "The trends we've been following for at least the past year -- the increasing fraction of ON spending dedicated to metro WDM, the shift in end-to-end solutions marketing (if not purchasing), growing investment in undersea capacity, the growing addressable market for ON gear as emerging markets and alternative network builders take out their wallets, network evolution built on more packet-capable, agile, and resilient networks -- remain powerful forces for market growth and spending shifts. Of the top ten vendors, Ciena, Fujitsu, NEC, and Tellabs all posted positive sequential and year-over-year results; Alcatel-Lucent and Huawei both followed strong 4Q07 results with expected sequential declines; and only Nortel posted both sequential and year-over-year declines."
Spending in North America topped all other regions, with just over $1.3 billion for the quarter. While all regions posted growth over 1Q07, only North America exceeded 4Q07 spending. "Both Fujitsu and NEC both got a positive boost from a strong Japanese market, the words 'strong' and 'Japanese market' not having been side by side in many a quarter," noted Cooperson. Next-gen SDH/SONET maintained its position as the single largest segment, with $1.5 billion in global spending, but metro WDM, with quarterly spending of nearly $900 million, continues to grow at a faster pace and add to its heft as the second-biggest segment.
The table highlights top ten vendor performance for the quarter.
Visit Ovum