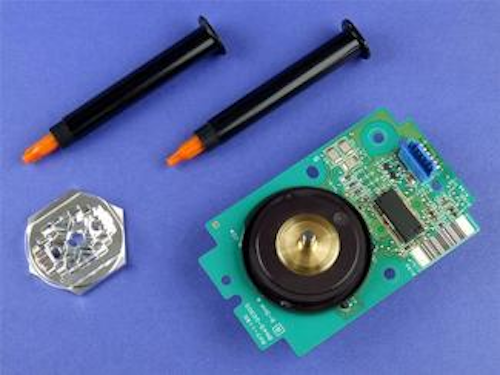 JUNE 16, 2009 -- Master Bond Inc. (search Lightwave for Master Bond) has made available Master Bond UV22, a nanosilica-reinforced, UV-curable epoxy system that the company says offers a combination of properties not available in conventional epoxy systems. The nanosized filler (<50 nm) gives the cured system high resistance to abrasions, optical clarity, low shrinkage, and physical strength properties, while still allowing the product to have a low viscosity of 4,000 cps. The tensile strength of the cured epoxy is greater than 4,600 psi and its tensile modulus is greater than 500,000 psi, representing a 50-90% improvement in performance over similar unreinforced systems.
The epoxy cures rapidly upon exposure to UV light at room temperatures. It is a single-component system and requires no mixing. It has a low coefficient of thermal expansion and offers electrical insulation properties. Post-curing enhances its temperature and chemical resistance properties. For example, post-curing at 90-125 degrees Celsius for 30 minutes will give it a glass transition temperature greater than 120 degrees Celsius. The epoxy has a service temperature range of -60 degrees to +300 degrees Fahrenheit.
Master Bond UV22 is available for use in convenient syringe applicators. It is solvent-free and not oxygen inhibited. UV22 is also available in a specially formulated, dual-cure version called UV22DC, which can be cured by UV light or by the application of heat, making it a, option for applications that feature "shadowed out" areas not reachable by UV light.

Visit Master Bond