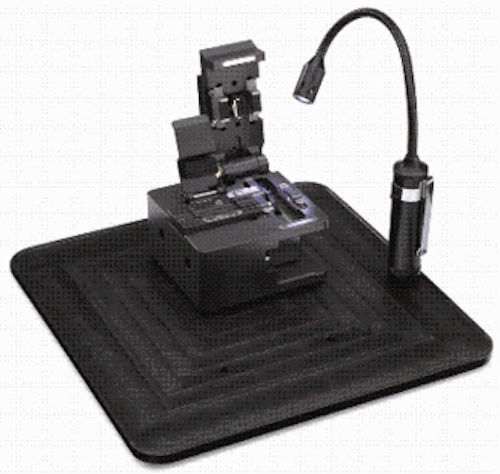 JUNE 19, 2009 -- Leviton Network Solutions (search Lightwave for Leviton) has added the LYNX cleaver to its selection of fiber termination tools. The cleaver performs high-precision cleaves required for fusion and mechanical splicing. The tool is designed to terminate Leviton's FastCAM connectors.
The LYNX works with both 250-µm coated and 900-µm buffered fibers. A cleave angle of 90 degrees +/-0.5 degrees is guaranteed, and the 16-position blade allows for approximately 48,000 cleaves. The LYNX also includes a built-in waste holder to eliminate cleanup.
The LYNX cleaver can now be purchased individually or as part of two FastCAM tool kits: One includes the cleaver, lint-free dry wipes, alcohol pads, and a jacket stripper; the second includes the cleaver, work tray and gooseneck LED, dry wipes, alcohol pads, and a jacket stripper. The company also offers the work tray and LED separately. The company's fiber products, including the LYNX cleaver, are available through a nationwide reseller network.