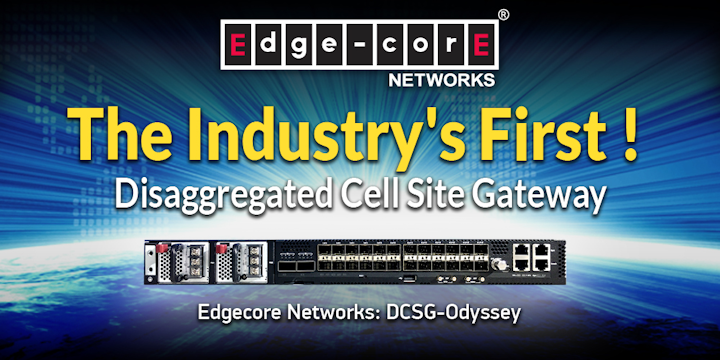 Volta Networks says its cloud-native virtual routing software now can run on Edgecore Networks' open networking switches. The first fruits of the collaboration see the Volta Elastic Virtual Routing Engine (VEVRE) running on Edgecore's AS7316-26XB cell site gateway switch, the hardware vendor's version of the Disaggregated Cell Site Gateway developed by the Telecom Infra Project (TIP).
The two companies say that other Edgecore platforms will soon have similar capabilities. Edgecore offers open WiFi access points, packet transponders, virtual PON OLTs, cell site gateways, and 1G, 10G, 25G, 40G, 100G, and 400G OCP Accepted switches. "With Edgecore's engagement with Tier 1 network operators worldwide, we fully understand the economic pressures and evolving service requirements that are accelerating the deployment of open, scalable, and automated infrastructure – especially at the service edge of mobile networks," said George Tchaparian, president and CEO of Edgecore. "Partnering with Volta Networks to run their cloud-native virtual routing software on our open network switches provides network operators a new way to cost-effectively scale out routing in their networks, a key factor in both partners being selected for TIP's Disaggregated Cell Site Gateway project."
The DSCG technical specification defines open, disaggregated white box cell site gateway devices for current 2G/3G/4G cell sites as well as in upcoming 5G deployments. The DSCG supports Layer 2, Layer 3 and MPLS features. The vendors picked by TIP as DSCG support finalists were based on an RFI issued by Vodafone, TIM Brasil, and Telefonica (see "TIM Brazil, Vodafone announce suppliers for TIP Disaggregated Cell Site Gateway trials"). Responses were reviewed for solution architecture, functionality, scalability, availability and solution roadmap, Volta and Edgecore say.
VEVRE separates the control and data planes and leverages the benefits of the cloud and open networking switches. Volta asserts the control plane runs on any public, private, or hybrid cloud. The VEVRE hosts Virtual Route Processors (VRPs) that are unique to a specific customer, application, or service, and assigned to a set of physical or logical ports on the open networking switches.
For related articles, visit the Network Automation Topic Center.
For more information on high-speed transmission systems and suppliers, visit the Lightwave Buyer's Guide.
To stay abreast of service provider network technology developments, subscribe to Lightwave's Service Providers Newsletter.