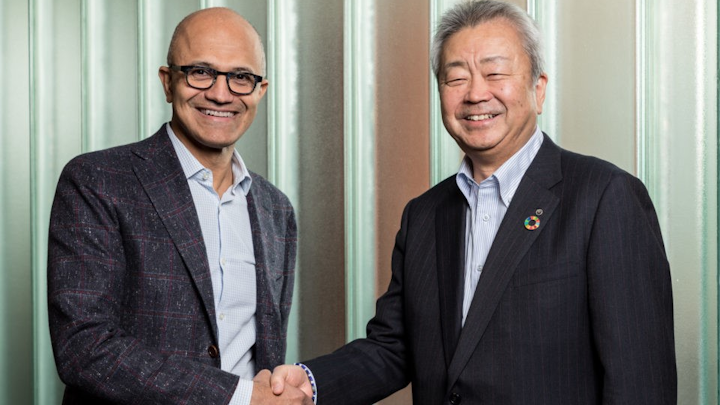 Microsoft Corp.
NTT Corp. (NTT) and Microsoft Corp. have announced a multi-year strategic alliance that will see the two companies combining their expertise to benefit enterprise customers. The work will combine NTT's ICT infrastructure, managed services, and cybersecurity know-how with Microsoft's cloud platform and artificial intelligence capabilities. Concurrently, NTT has selected Microsoft Azure as its preferred cloud platform.
Initially, NTT and Microsoft will focus on three initiatives:
Creation of a Global Digital Fabric, which will integrate Microsoft Cloud and NTT's global ICT infrastructure to benefit enterprises as they digitally transform. The fabric will leverage the two companies' work in productivity offerings, public cloud, global data center, and network infrastructure.
Development of "digital solutions" based on Microsoft Azure to enable secure connectivity from the enterprise to the edge to the cloud. Key pieces will include analytics for cybersecurity threat intelligence, social robotics with relational AI for digital companions, digital workplace offerings, and knowledge discovery and management.
Research and development in such areas as all-photonic networking and

digital twin computing

as part of NTT's Innovative Optical and Wireless Network (IOWN) concept.
"NTT and Microsoft have a long history of collaboration, and this strategic alliance will further deepen our partnership. We share the same vision of empowering enterprises and society with intelligent and secure technologies for a better and more sustainable future," said Jun Sawada, president and CEO of NTT.
"Our strategic alliance combines NTT's global infrastructure and services expertise with the power of Azure," added Satya Nadella, CEO, Microsoft. "Together, we will build new solutions spanning AI, cybersecurity, and hybrid cloud, as we work to help enterprise customers everywhere accelerate their digital transformation."
For related articles, visit the Network Automation Topic Center.
For more information on high-speed transmission systems and suppliers, visit the Lightwave Buyer's Guide.
To stay abreast of fiber network deployments, subscribe to Lightwave's Service Providers and Datacom/Data Center newsletters.