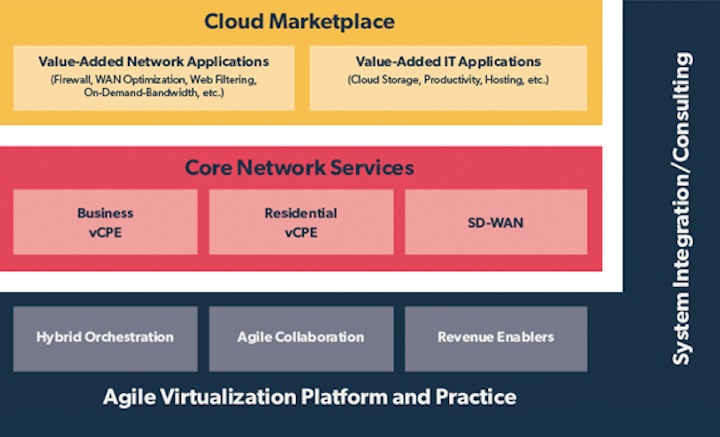 NEC Corp. and its wholly owned Netcracker Technology subsidiary have launched a Network-as-a-Service (NaaS) offering that combines virtualized network infrastructure and services, cloud applications, orchestration, and commercialization tools through an open ecosystem of pre-integrated partners. Based on the companies' Agile Virtualization Platform and Practice (AVP; see "NEC, Netcracker offer Agile Virtualization Platform and Practice for SDN/NFV"), the NaaS offering can help carriers rapidly deploy and monetize new services to both business and residential customers, NEC and Netcracker assert.
The companies say that the offering removes the risk associated with jumping into software-defined networking (SDN) and network functions virtualization (NFV) as operators seek to evolve their offerings from connectivity to on-demand provisioning as well as ordering of services via a self-service portal.
"Service providers are increasingly looking beyond their traditional core offerings as they face continued competition and price erosion. The need to rapidly onboard and launch new services, including enhanced network facilities as well as third-party offerings, is critical as they broaden their revenue mix," said Fran Heeran, Vice President and General Manager of SDN/NFV at Netcracker. "The NEC/Netcracker NaaS solution provides a complete, end-to-end environment that supports the definition, provisioning, orchestration and lifecycle management of complex services. It leverages the advances in both network and function virtualization to allow a new level of flexibility and automation, lowering costs and reducing time-to-market."
The NaaS cloud ecosystem combines basic network services (e.g., enterprise vCPE, residential CPE, and software-defined WAN), value-added network services (e.g., firewalls, bandwidth-on-demand, web filtering, and WAN optimization) and cloud-based business productivity applications. Service providers can use these capabilities to customize service packages for different markets and customers. The ecosystem offers both pre-integrated services as well as the opportunity to work with NEC/Netcracker's partners for additional applications.
NEC and Netcracker also offer systems integration services as part of the new product.
For related articles, visit the SDN/NFV Topic Center.
For more information on high-speed transmission systems and suppliers, visit the Lightwave Buyer's Guide.