Networks
By EDWARD HARROFF
Pangea Ltd., which is a new-entrant carrier incorporated in January 1999 to serve Northern Europe, has completed major milestones in its PANGEA1 network deployment. This network is initially configured as self-healing optical-fiber rings with capacity of 160 Gbits/sec. Pangea's customers-other European carriers, Internet service providers (ISPs), and value-added network service providers-can choose transport levels starting with STM-1 up to STM-16. Optical clear channels (wavelengths) are also available at 2.5- and 10-Gbit/sec levels.
The carrier recently announced completion of a link between the U.K. and the Netherlands and another joining Stockholm; Tallinn, Estonia; and Helsinki. Pangea claims that the 205-km (128-mi) U.K.-Netherlands submarine link for the PANGEA1 cable system serving Northern Europe and Scandinavia was completed ahead of schedule. Lawrence Smith, Pangea's vice president, submarine systems, says the overall cable length between landing points at Lowestoft and Amsterdam is 252 km (157 mi). "This segment is designed to be the highest-capacity cable across the North Sea," says Smith. "Between our point-of-presence in London and network-operations center in Amsterdam, it can be upgraded to handle 7.2 Tbits/sec."
With more than 20 telecommunications operators building pan-European networks, there are some doubts about the viability of the carrier's carrier business model. Annie Snelson, fiber markets consultant at the Phillips Group, observes that "the PANGEA1 project is proving that the broadband capacity on one of Europe's busiest routes has not yet reached an over-capacity situation in the short term."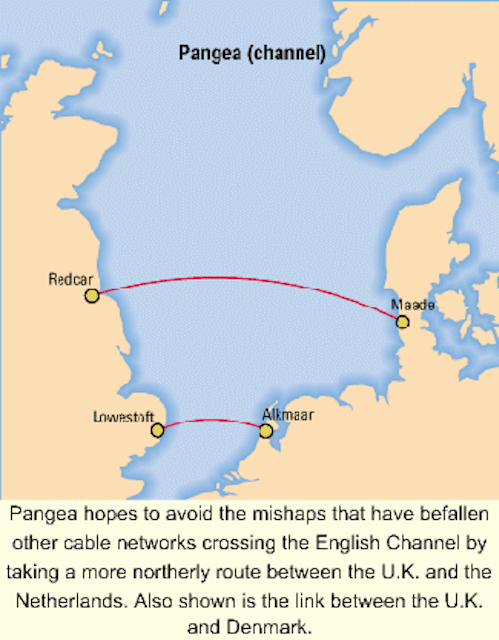 Pangea hopes to avoid the mishaps that have befallen other cable networks crossing the English Channel by taking a more northerly route between the U.K. and the Netherlands. Also shown is the link between the U.K. and Denmark.
She further states that the Amsterdam-London route is already highly competitive and that over the last three months of last year, capacity prices on the route dropped by 27%. "As part of the 'golden triangle,' the route is a particularly low-margin one. I would therefore anticipate that they expect to generate revenue from other routes on their four-ring network," concludes Snelson.
In spite of Pangea's startup status, the company has struck deals with leading suppliers of DWDM systems-Nortel Networks for terrestrial network equipment and Alcatel Submarine for undersea systems. Pangea is one of the first carriers to build a "greenfield" network from scrap that starts with Alcatel's new 10-Gbit/sec DWDM equipment especially modified for submarine usage.
Pangea's management team, headed by former MCI WorldCom executive Lawrence Codacovi, sees the North Sea-Baltic Sea region as one of Europe's economic tigers. With an increasing amount of direct foreign investment, Pangea wants to be in the forefront of delivering advanced telecommunications services.
PANGEA1 North Sea connectivity has already helped Pangea to sign up Equant, Viatel, and Infonet as some of their first wholesale customers. Michael J. Mahoney, Viatel's chairman and CEO, says, "The high-quality bandwidth that we are acquiring from Pangea will provide critical expansion for the Viatel backbone throughout the key business centers of Scandinavia and Northern Europe. The diverse and robust systems architecture of PANGEA1 will facilitate our delivery of broadband solutions to companies, ASPs [application service providers], and ISPs that are looking for highly reliable service into this region. Until now, there has been no single system to reach this dynamic market."
The completion of the PANGEA1 U.K.-Netherlands submarine link gives Pangea something of a competitive advantage, as most other pan-European carriers need broadband capacity on this heavily used route. "The installation was trouble-free and is the first project in my experience to be completed with zero weather downtime," says Smith. "It is a credit to the professionalism of Alcatel and its close partner CTC Marine Projects." Alcatel holds a majority stake in CTC Marine Projects.
"We are pleased to partner with Pangea," says Mike Barclay, project manager for the Pangea project in Alcatel's submarine networks division. "Pangea and Alcatel have proven that by working together they can get world-beating networks installed without problems and ahead of schedule."
Smith explains that Pangea built the U.K.-Netherlands link as far north of the English Channel as possible due to the potential risks from the heavily transited sea lanes (see Figure). Accidents involving ships cutting undersea cables have been increasing in some of Europe's busiest sea lanes.
In addition to the U.K.-Netherlands network, the 600-km (375-mi) repeaterless Baltic undersea segment will link Helsinki, Tallinn, Hiiumaa, Sandhamn, and Stockholm Solna via Ljustero. The 48-fiber network will provide an initial capacity of 8x10 Gbits/sec per fiber pair connecting points-of-presence in Stockholm, Tallinn, and Helsinki. The link can be upgraded to 32 wavelengths of 10 Gbits/sec per fiber pair.
Pangea intends to build out its fiber plant to a total of approximately 11,500 km, including terrestrial and submarine self-healing rings. In addition to the two projects recently announced, Pangea and Alcatel have completed a repeatered submarine system between the U.K. and Denmark.
The Pangea network is estimated at $420 million and fully funded through equity investment partners and bank financing.