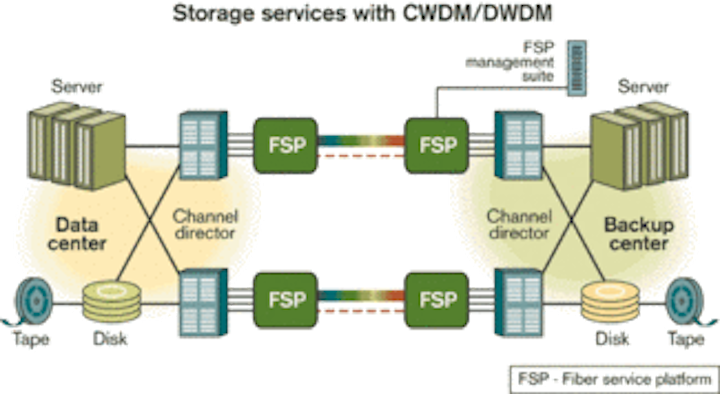 Carriers have seen few new demand-driven revenue opportunities materialize over the last two and a half years, but here's one that is clearly coming into focus: fully managed SAN services.
The enterprise market demand is there, as evidenced by the widespread implementation of disaster recovery plans. Perhaps as many as 70% of Fortune 1000 companies worldwide have deployed disaster recovery networks across fiber infrastructures that link their facilities within a given metropolitan area. Today, these enterprises seek to adopt more comprehensive approaches to data-center connectivity, distributed storage, and server consolidation.
The additional burden these services would entail for IT staff, however, is a considerable deterrent. Enterprise IT staffs have been so severely constricted they simply cannot afford to shoulder additional responsibilities, and there remains little interest among enterprise decision-makers for ramping up employment to support anything other than core-business activities. Outsourcing, therefore, makes sense.
Advances in optical-networking platforms have coincided with this burgeoning market demand. Traditional performance and cost limitations no longer prevent carriers from profitably introducing enterprise-specific offerings such as managed SAN services like disaster recovery over fiber, mainframe geoplex clustering, open systems clustering, remote backup over fiber, data mirroring over SONET/SDH, and thin-client networking.
Enterprises today are leery about locating all their information assets in one place, and this hesitancy is underscored by regulatory trends. Many governments have recently introduced guidelines or laws regarding disaster recovery. The U.S. Federal Reserve and U.S. Securities & Exchange Commission, for example, have formally recommended that banks locate primary and remote backup data centers 100 or more miles away from one another and position themselves to recover network operations within two hours of disasters. Similarly, the new Basel Capital Accord, which is to be implemented across international banking in 2006, stipulates that a financial institution's data-backup strategy be factored into its credit rating.
Security isn't the only driver in the trend toward managed SAN services, however. There's the growing cost of network downtime. With more mission-critical applications entrusted to their networks every day, enterprises risk more lost revenues in the event of network downtime. The projected costs are staggering: about $125,000 per hour for a pay-per-view TV operator, roughly $2.6 million/hour for a credit-card company handling sales authorization, and more than $6.4 million/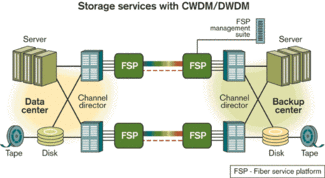 Fiber service platforms can combine CWDM and DWDM technology and support next-generation data advances such as generic framing procedure-enhanced SONET/SDH to support a variety of managed SAN services over the same infrastructure.
hour for retail brokerages. Enterprises simply cannot risk these potential losses in revenues. Managed SAN services, then, become an attractive option for enterprises because they minimize network unavailability; if one data center is down, operations shift to the backup servers at another point in the MAN.
Operational flexibility represents another reason enterprises would want to distribute their information assets via managed SAN services. A brokerage, for instance, might choose to distribute its employees, with traders' offices in the downtown financial district and support personnel away from the action in the lower-rent suburbs. This option is practical, of course, only if enterprises experience in-building network performance across a MAN—a superior level of performance that today's managed SAN services over optical networks deliver.
Fortune 100 banks, insurers, and other financial institutions were among the pioneers of storage applications over optical networks. In the early 1990s, Escon, a 200-Mbit/sec optical protocol, was the primary interface for copying multiterabit files between mainframe networks to remote locations, but "channel extender" equipment was necessary to convert mainframe data for transport across circuit-switched SONET/SDH networks. This scenario was expensive, and it failed to deliver satisfactory performance. The largest enterprises began leasing their own dark fiber for networking Escon storage applications. The improvement in performance was multifold, outpacing the rise in cost.
The real breakthrough came in 1995, with the emergence of WDM. For the first time, enterprises could transport any common protocol at native speed over a single optical fiber, and the cost was a fraction of that of legacy solutions. WDM assigns Ethernet 10/100/1,000/10G, Escon, Ficon, Fibre Channel (at 1 and 2 Gbits/sec), Coupling Link, Sysplex Timer, ATM, and SONET/SDH (OC-3/-12/-48/-192 and STM-1/-4/-16/-64) to specific wavelengths of light along the optical fiber, and traffic is multiplexed. Because protocol conversion equipment is not needed and lightwaves of different lengths do not interfere with one another during transmission, there is no performance degradation.
WDM has also represented a leap forward in operations. Integrating new services is simple, frequently accomplished from a single management interface. In this way, WDM gives carriers the flexibility as well as the network scalability to cost-effectively accommodate the inevitable evolution in their customers' connectivity needs.
CWDM and DWDM have subsequently been developed for customers with different needs. In CWDM, the spacings between wavelengths are wider (20 nm) than in DWDM (1.6 nm or smaller). That means CWDM offers fewer "virtual channels" (up to eight) than does DWDM (up to 64). Enterprises and carriers employ CWDM for limited deployments primarily over point-to-point links of up to about 45 mi between sites; DWDM is the choice for customers with higher bandwidth and distance needs as well as more advanced network architectures.
Today, hybrid CWDM/DWDM optical-networking platforms are arriving in the marketplace. Enterprises and carriers can deploy two or four channels today, analyze current and future bandwidth demand, then add channels incrementally and cost-effectively as business needs dictate. Initial installation costs are lower than for a DWDM-only approach, and customers save on training and spares costs because CWDM and DWDM are provided via the same platform.
Other improvements to the technology are being undertaken. Since some enterprises must be accessed via the legacy SONET/SDH transport network, optical platforms are being enhanced with built-in SONET/SDH framing and the emerging generic framing procedure (GFP) technology. Also, Ethernet in the First Mile (EFM) standards, likely to be ratified in 2004, will define interconnection and interoperability among Ethernet access devices and core routers and switches connected over optical networks.
The advancements in optical networking enable SAN services of unprecedented impact for enterprises. While a 60-Tbyte data recovery across a metro area over a single OC-3/STM-1 connection may have required 45 days or more, the same exercise can be executed in one to three hours using a 64-channel carrier class DWDM solution (see Figure).
A carrier class optical-networking platform enables carriers to profitably introduce an array of data-center connectivity, distributed storage, and server consolidation services:
Disaster recovery over fiber. Enterprises disperse network content among metropolitan locations, and an up-to-the-second copy of all data is available as needed. Existing Ficon and Fibre Channel (FC) protocols provide 1.062 Gbits/sec for disk mirroring between data centers separated by up to several hundred miles.
Mainframe geoplex clustering. Financial institutions are among the enterprises whose business depends on the integrity of terrific amounts of constantly changing data. These organizations are the typical users for Geographically Dispersed Parallel Sysplex (GDPS) applications, which enable redundant synchronization among sites of central-processing units. Only WDM can deliver the minimal levels of latency and jitter that the Sysplex Timer signals can withstand. Metro carriers can serve these customers by interlinking multiple mainframes in a single logical server via a mainframe geoplex clustering service.
Open systems clustering. With this service, metro carriers extend the benefits of data-center connectivity to enterprise customers of all sizes. Organizations transport FC storage and Ethernet applications over a common infrastructure.
Remote backup over fiber. Data mirroring takes place among enterprise storage sites in point-to-point or ring environments. Sites can be spread over considerable distances, and all Escon, Ficon, and FC storage applications still perform at native bit rates.
Data Mirroring over SONET/SDH. With CWDM/DWDM systems enhanced with built-in SONET/SDH or optical transport network framing and GFP, metro carriers can deploy and manage Escon, Ficon, and FC data-mirroring applications at native bit rates for enterprise customers who must be accessed via legacy transport networks.
Thin-client networking. Here's a new spin on the old idea of intelligent mainframe and dumb terminals. With a managed thin-client networking service, metro customers deploy clusters of client PCs without local storage capabilities. The carrier links the PCs back to remote servers via either transparent WDM or GFP-enhanced SONET/SDH framing. This is a service of increasing market momentum, with enterprise customers more concerned than ever with data security and consistency.
Storage has typically been a "make" proposition for enterprises; companies have historically built and maintained their own SANs. But a "buy" mentality is taking hold. Because of the unprecedented business benefits of the services themselves and the trend toward cost-efficient outsourcing, more enterprises are electing to procure managed SAN services from carriers. Smaller companies are especially eager to adopt the new model. For them, sophisticated storage applications have been too expensive or labor-intensive for their businesses.
By contracting for a managed SAN offering, the enterprise escapes the burden of managing the network. Enterprise sites are linked through the carrier central office, and the carrier shoulders the not-inconsiderable management responsibility. Managing SANs can be a prohibitively challenging and expensive endeavor for an enterprise IT department to undertake alone. There can be significant implementation hurdles (i.e., providing proper route redundancy among all locations within a metro area), and assembling and keeping sufficient trained staff is costly. Outsourcing simplifies things and renders the cost of networking a predictable monthly line item. Enterprises dedicate personnel and capital expenditures to core-business pursuits, as opposed to ancillary support functions.
Enterprise customers crave SAN-in-the-MAN functionality, without the labor and hard-to-predict costs associated with building, managing, and maintaining the networks themselves. The opportunity is there for the forward-thinking metro carrier to claim new high-margin revenues today, strengthen customer relationships, and better position themselves for additional opportunities tomorrow.
Todd Bundy is director, business development and alliances, SAN, with ADVA Optical Networking (Mahwah, NJ).