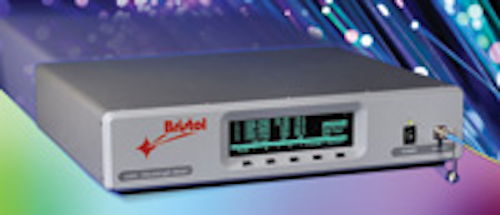 Test and Measurement
Optical Wavelength Meters
Bristol Instruments

Optical wavelength meters precisely characterize the wavelength of DWDM lasers. Multi-wavelength meters measure wavelength, power, and OSNR of DWDM signals. High accuracy and reliability achieve the most meaningful test results.
www.bristol-inst.com
Network design
Multimedia Optical UPS
Lindsay Broadband

Lindsay's optical product offering includes, strand mounted GigE to Ethernet Gateways, Industrial rated X2, XFP, SFP and SFP's, hardened CWDM and DWDM multiplexers, a full range of PLC splitters.
www.lindsaybroadbandinc.com
These are the latest products being featured by Lightwave's partners. For more information, click on the link at the end of each description.
Networking
Get optical signal analysis capabilities into a compact, affordable and portable unit

Agilent

Deeper analysis and greater flexibility of complex modulated signals for 100G designs at a fraction of the cost, size and weight of existing optical modulation analyzers. Why wait?
www.agilent.com
Equipment Design
LX8220
GigOptix

The LX8220 is a compact 40G DQPSK optical modulator enabling 4.5×5.5" 300-pin transponders for metro applications. Its low drive voltage ensures low power consumption without compromising on optical performance.
www.gigoptix.com
Equipment Design
USB To Fiber Optic Bit-Driver
S.I. Tech

Supports USB 1.1 and 2.0 plug and play, multimode or singlemode for secure communication, remote security cameras, instruments, or other USB devices, extended-distance. EMI/RFI immunity. Order: 1.KIT #26 for complete multimode system. 11.3181/3182 for tempest version.
www.sitech-bitdriver.com
Equipment Design
IntelliGain™ Optical Channel Performance Monitors C, L, CWDM, Wideband
BaySpec, Inc.

100% Made-in-the-USA, BaySpec's Optical Channel Monitors feature ultra fast sub-50 milli-second response, high compact size, and low power consumption. With over 30,000 units shipped, the ruggedized design ensures long life – now available in reduced height option <10mm!
www.bayspec.com
Equipment Design
Rev2 Micro-Polisher
Krell Technologies

Rev2 automates connector air-polishing using a "micro-feed" feature that gradually lowers the ferrule to the polishing surface at a controlled rate. This provides superior control for fiber-denub and epoxy removal.
www.krelltech.com
Test
Terahertz Technologies' FTE-7500A OTDR
Terahertz Technologies Inc.

This US made OTDR has a generous 36dB dynamic range, a short 1 meter dead zone and an updated easy to read menu that offers quick navigation between features.
www.terahertztechnologies.com