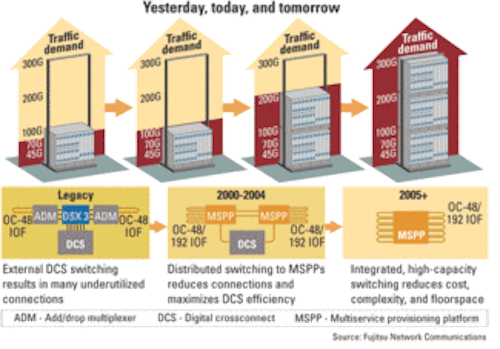 Since the bursting of the telecom bubble, some industry insiders have been ready to eulogize SONET/SDH as an outdated and outmoded technology. All sources interviewed here agree that the need for pure-play SONET/SDH equipment is dwindling-but do not infer from that statement that SONET/SDH is going away. As a transport technology, it remains as relevant as ever.
Ten years ago, vendors produced SONET/SDH multiplexers and digital-crossconnect systems that incorporated SONET/SDH facilities, and people still may think of SONET/SDH in terms of these specific products. In reality, notes Stu Bennington, director of product marketing at Tellabs (Lisle, IL), SONET/SDH has evolved into something more like a technology umbrella or set of standards that is incorporated into a variety of equipment.
For this reason, SONET/SDH will continue to grow, but that growth will likely take different forms. "It might not be growth of lots of new SONET-only nodes," says Bennington, "but it could be growth in the form of ROADMs. It could be growth in the form of MSPPs, and it could be growth in the form of SONET and SDH ports on data elements."
Today, all R&D efforts are going into the development of next generation ADMs or MSPPs, confirms Sterling Perrin, senior research analyst in optical networking at IDC (Framingham, MA). However, he notes that incumbent vendors are still selling legacy equipment. The first generation SONET/ADM market hit its stride during the telecom bubble; as a result, many carriers have a large installed base of legacy equipment.
"We still see a lot of card fill," says Kevin Drury, director of optical networking at Nortel Networks (Ottawa, Ontario). "For [carriers], they are improving their return on assets by simply incrementing and adding cards to network elements that are not full to capacity. Although they may achieve some cost savings from a capital-expenditure perspective by introducing a new technology [like the next generation ADM or MSPP], they don't quite yet have that critical event or trigger to switch over because of the embedded operational efficiencies that they have."
Legacy SONET/SDH ADMs supported single rings and traditional DS-1 and DS-3-type drops, while today's MSPPs support multiple rings and feature larger switch fabrics to facilitate the connection of traffic between rings. In the future, MSPPs will provide higher capacities, enhanced data capabilities via MPLS, and integration with ROADM technology.
Nortel also has carrier customers that purchase MSPPs to provide pure SONET/SDH ADM functionality, says Drury. Even if you take an MSPP and make it act like a legacy system, that MSPP will still be more cost-effective because it has a higher density and smaller footprint and consumes less power than a first generation platform, he adds. "So we're seeing some cannibalization or displacement occurring when carriers put a cap on the traditional ADM and move to an MSPP," he admits, "although it is an MSPP that is purely deployed in a SONET ADM application."
In 2004, the worldwide MSPP market netted $2.6 billion, reports Perrin. The worldwide SONET/SDH ADM market is still much bigger, topping $4 billion last year. While sales of legacy equipment continue around the world, that number might be slightly skewed by regions outside North America. The metro MSPP was developed in North America and still retains its strongest presence here, where it is regarded as an interim step between legacy equipment and the adoption of pure Ethernet switches and routers for data service delivery. In Asia, by contrast, many carriers are not deploying the MSPP but migrating directly to metro Ethernet equipment.
The MSPP itself has received several key enhancements since its introduction in 2000, reports Sam Lisle, director of market development at Fujitsu Network Communications (Richardson, TX). The ability to support multiple rings and the integration of large switch fabrics to facilitate the connection of traffic between rings are table stakes today, he says.
He cites the inclusion of additional packet management technologies as a key trend. "We've now seen a couple of years where people have been deploying point-to-point Ethernet over SONET on these next gen ADM or MSPP platforms," he says. "I think there has been some interest for a while now in using Layer 2 Ethernet over SONET, where the MSPP device actually manipulates Ethernet frames in a more sophisticated way. People are looking at RPR [resilient-packet-ring] technology, for example."
The increase in Ethernet traffic continues to drive MSPP adoption, since it is a cost-effective mechanism to transport such services. "If the question is, 'Is data gobbling up optical or is optical gobbling up data?', the evidence today is that optical is, in fact, gobbling up data," contends Jacob Larsen, director of portfolio management and business development in Lucent Technologies' Optical Networking Group (Murray Hill, NJ).
The amount of Ethernet that rides over SONET/SDH is equal to the amount of Ethernet that rides over Ethernet in carrier networks today, says Larsen, citing the cost-effectiveness of the optical layer, which is increasing at a rate of 10%-15% per year, as a primary reason. The cost-effectiveness of data, by contrast, is increasing just 6%-10% per year. It is this aggressive improvement in cost-effectiveness that has enabled SONET/SDH as a transport infrastructure to retain its relevance in carrier networks, he says.
Of course, transporting Ethernet over SONET is just one way to carry Ethernet services, notes Bennington. In the future, carriers may opt to remove the SONET/SDH envelope entirely and carry Ethernet directly over fiber. "The debate is, 'Do you want to put Ethernet over SONET or do you want to just put Ethernet over fiber or Ethernet over lambdas over WDM?'" he muses.
Historically, SONET's protection and restoration capabilities have been its strength, but the advent of Ethernet over MPLS enables carriers to get the same protection from MPLS that they used to get from SONET, thereby eliminating the need for SONET transport. But this migration will be slow to come to fruition, notes Bennington.
"SONET is very commoditized," he says. "The prices have come down substantially, and there are great economies of scale. So even if there is a bandwidth penalty [for carrying Ethernet over SONET] in many cases, it is still the most attractive alternative for operators to implement. That's one of the reasons why it's had good staying power."
According to Lisle, operators can also "get some networking bang for [their] buck" by integrating MSPP or next generation SONET functionality as a blade within a ROADM system. Fujitsu's Flashwave 7500, for example, features flexible transponders, or "flexponders," that act as next generation ADMs or MSPPs on a card.
Tellabs' 7100 metro DWDM platform has evolved in a similar fashion, using integrated muxponders. "You can think of them as ADMs-on-a-blade," explains Bennington. "It's not that SONET is going away, it's that the discrete SONET-only elements are going away. They are being incorporated into other types of elements like metro DWDM where it makes a lot of sense."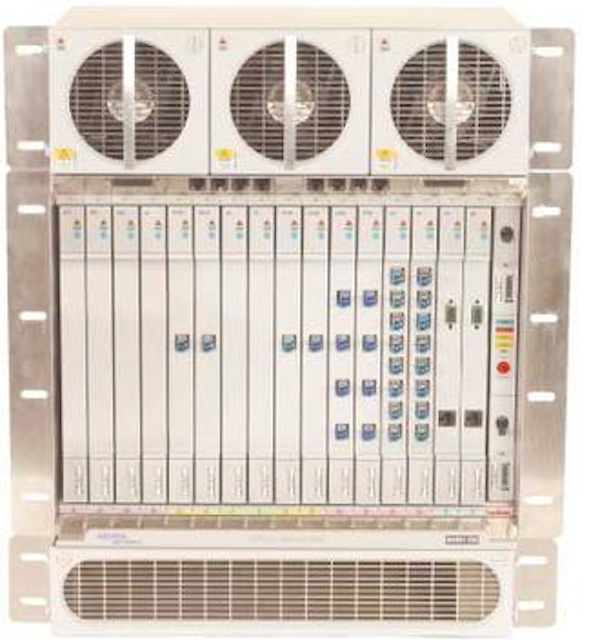 Nortel reports that some customers are still buying its legacy SONET ADMs, the OC-48/192 TransportNodes, to support existing networks, but many have already migrated to its latest generation OME 6000 SONET/SDH MSPPs-even if they are just using those devices to perform legacy functions.
Verizon recently issued an RFP for just such a system, and other carriers will likely follow suit, says Perrin, though he notes that the industry is still trying to determine just what this converged platform will look like. Some vendors like Tellabs and Fujitsu are taking MSPP technology and integrating it into metro WDM equipment. Others are integrating WDM transport technology into an MSPP chassis, like Cisco Systems (San Jose) has done with its 15454 multiservice transport platform.
"Is SONET/SDH getting combined with ROADM or is ROADM getting combined with SONET/SDH?" wonders Lucent's Larsen. "You can debate that. In my opinion, they address different problems in the network. SONET and SDH address all the grooming, all the restoration, and all the reliability in the network, whereas ROADMs address the need for setting up and switching very-high-capacity traffic. Therefore, there is a peaceful coexistence between those two technologies."
In the future, SONET/SDH must continue evolving to incorporate more data capabilities, says Larsen. The first generation MSPPs could simply transport Ethernet traffic. Today, MSPPs feature integrated Ethernet switching, and they are evolving to include more data-like protection schemes, including the use of RPR as a transport layer. According to Larsen, the natural next step in this evolution-and everyone, including Lucent, has it on their roadmaps, he says-is the incorporation of MPLS.
"MPLS will enable integrated data control so that you have data-like traffic engineering, data-like quality-of-service SLA [service-level-agreement] enforcement on your optical gear," he explains. "You utilize the resiliency and restoration of the SONET/SDH layer but you make it more transparent and easier to configure for services that are becoming increasingly data driven." He adds that the integration of MPLS is likely just 12-18 months away.
Fundamentally, the transport layer will still deliver the benefits and values of SONET, agrees Nortel's Drury.
"The benefits and the capabilities of SONET and SDH are going to be around for the foreseeable future," he says, "although that SONET ADM construct-the multiplexing mountains of TDM circuits-will fade away over time."
Meghan Fuller is the senior news editor at Lightwave.