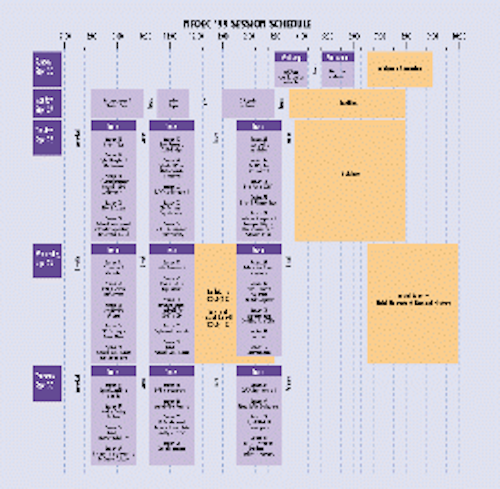 Three key concepts in fiber-optic telecommunications technology--convergence, emergence, and enlightenment--contribute to the theme at this year's National Fiber Optic Engineers Conference (NFOEC '99). The conference, sponsored jointly by Ameritech and Telcordia Technologies (formerly Bellcore), is Sept. 26 to 30 at Lakeside Center at McCormick Place, Chicago.
NFOEC has become a premier forum of information exchange concerning planning, deployment, and management of fiber-optic technologies for the telecommunications industry. This year marks the 15th anniversary of bringing representatives from across the industry together to share the latest in fiber technologies and applications.
"This year's NFOEC will be bigger," says Don Thorp, NFOEC '99 committee member. "We're expecting about a 10 to 15% increase in attendees. We've also expanded the technical program by about 50%. The focus of the conference has also shifted over the last few years to new technologies sought by service providers and how vendors can help by introducing near-term, ready-for-market solutions. Service providers and vendors are expressing areas of concern and problems they're facing in deploying these new technologies. Those concerns give NFOEC its focus. Part of that focus is on asking for help in particular problem areas and another part is on offering solutions because somebody has asked. NFOEC is always focused on those technical papers, requests, and offered solutions...and exhibits are the 'icing on the cake' that show realizations of what solutions are actually available out there."
The event is also growing in international participation. Thorp points out the conference was originally set up to serve the needs of the seven regional Bell operating companies (RBOCs). Since its inception 15 years ago, it has expanded to address the needs of long-haul carriers and, in the last few years, the metropolitan, enterprise, and competitive local-exchange carrier (CLEC) markets.
"We're avidly trying to bring these groups together, since we're looking at the fact that network solutions are really the important things here, as opposed to components of the network," says Thorp. "One purpose of this conference is to get all the major industry players to come as close together as possible in expressing their individual needs, while helping the vendor community come as close as possible in providing the solutions to those needs."
In addition to new fiber-optic delivery technologies, NFOEC '99 is placing emphasis on data services and how they are delivered to the end user. Technical sessions will deal with delivered services, particularly data, and how to manage those services.
"We're giving management technologies a boost in attention this year, probably doubling or even quadrupling the attention from past years," says Thorp. "In my opinion, NFOEC is one of the best events for helping service providers find the solutions and products they're looking for. There may be bigger, more glitzy shows out there, but this one really reaches the people, both vendors and providers, who are implementing the industry's emerging new technologies."
The conference kicks off with a workshop on Sunday afternoon from 3 to 6 p.m. entitled, "DWDM in Next-Generation Network." As dense wavelength-division multiplexing (DWDM) moves closer to end users by gaining access to metropolitan and premises network areas, this workshop should appeal to the fiber-optic communications professionals at all levels of the industry.
Directed by Shahab Etamad from Telcordia, the workshop will focus on the most current advances and market concerns in DWDM technology. Following the workshop on Sunday, a welcome reception will be held at 6:30 p.m. in the Grand Ballroom at the Chicago Hilton and Towers. Although details were still being worked out at press time, rumor has it there will be lots of food and drink with a "taste of Chicago" theme. This casual affair will provide opportunities to meet new colleagues and catch up with old acquaintances.
The plenary session begins Monday with three invited speakers beginning at 8 a.m. Hamid Karimi and Bruce Tolley, 3Com Corp., will present a paper on Gigabit Ethernet, followed by a presentation by George W. Gawrys, AT&T Network Services, entitled, "Delivering the Promise of Optical Networking." Following a refreshment break, Dennis Jennings, Telcordia, will present "Next Generation Networks: The Vision, the Need and the Challenge." Following lunch on Monday, Dick Notebaert, chairman and chief executive officer at Ameritech, will deliver the keynote address. At press time, a second invited guest speaker to follow Notebaert had not yet been announced.
A large exhibit area with more than 130 exhibitors will be open Monday from 3 to 8 p.m., Tuesday from 3:15 to 8 p.m., and Thursday from noon to 3 p.m. The exhibits and technical sessions are scheduled separately to allow conference attendees to take full advantage of both.
On Wednesday, following the day's technical activities, a social event is scheduled at the world-renowned Field Museum of Natural History. The theme will coincide with the "emerging, converging, and enlightening" theme of NFOEC '99.
"So much of the conference is so intense, we're trying to keep this event light," says Thorp. "The museum has a lot of international flair. Conference attendees can indulge in food and festivities, as well as having ample opportunity to tour the museum, including an ongoing dinosaur exhibit."
The daily technical program begins on Tuesday, with five parallel sessions of contributed technical papers and panel discussion. The parallel tracts are as follows: A - Physical Layer Elements Tract; B - Physical Layer Systems Tract; C - Architecture Tract; D - Planning & Service Tract; and E - Management Tract.
Areas of interest for attendees interested in fiber-optic technologies and applications are interspersed throughout the technical program. On Tuesday, parallel tract A will cover optical fiber, fiber ribbon and cable, and fiber installation. Parallel tract B has sessions on optical couplers and multiplexers, optical add/drop multiplexers, crossconnects, and DWDM systems requirements. Tract C will offer Internet protocol (IP)/optical-transport-network (OTN) architectures and data-aware Synchronous Optical Network (SONET) networks. Parallel tract D will cover hybrid fiber/coax access networks, OTN planning, and network-planning tools. Tract E deals with network-management interoperability issues.
On Wednesday, Tract A will highlight connectors and attenuators, active optical components, and polarization effects. Tract B covers DWDM system performance, optical testing requirements, and recent progress in DWDM deployment. Parallel tract C focuses on SONET/Asynchronous Transfer Mode virtual-path rings, how to increase bandwidth for SONET and OTN, and migrating SONET to data/OTNs. Tract D looks at more OTN planning, deployment economics, and delivery of services. Tract E highlights network management for OTNs and other management aspects as well as a panel session on network management.

Thursday's parallel tract A takes a look at optical amplifiers and DWDM and DWDM impairments. Tract B covers optical testing methods and metropolitan DWDM planning and deployment. Parallel tract C begins with a panel on network reliability before moving into OTN architectures and network protocol convergence. Tract D focuses on operational improvements for service delivery and optical protection, followed by a panel discussing protection switching on multilayer networks. There will be no tract E on Thursday. The NFOEC '99 conference adjourns at 3:15 p.m. following the last technical sessions.