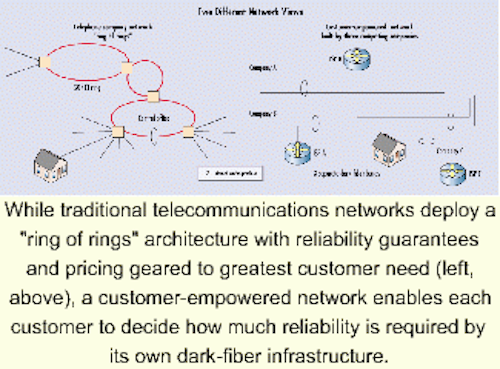 A new concept in building customer-empowered fiber-optic networks for high-speed Internet service is gaining a foothold in Canada. CANARIE Inc. in Ottawa, short for Canadian Network for the Advancement of Research, Industry, and Education, is actively piloting this new optical-networking strategy through its CA*net3 national network, making use of dark-fiber builds to link education and research facilities.
The approach to making high-speed Internet available at a much lower cost to schools, universities, and later to businesses and even homes, is based on what CANARIE calls "condominium dark fiber." The concept is relatively simple. As in commercial condominium apartment buildings, groups of people band together to share the costs of building the architecture and share in ownership of the resulting network in the form of owning their own fiber strands to meet their particular data needs.
The idea has taken hold in many Canadian school systems, particularly in Quebec. At least 17 school boards and most universities have already built, or are in the process of building, their own fiber networks. According to Bill St. Arnaud, senior director of advanced networks at CANARIE, the vision of the Internet first conceived by the education community was not exactly shared by traditional carriers.
"For the carriers, it was gateways and data networks and so forth," says St. Arnaud. "But now the Internet has evolved as the dominant form of technology. The Internet is made up of autonomous peering LANs [local area networks], with the LAN in your office being basically no different in concept than a big global network operated by MCI. In the optical world, up to now, most of the new technologies and products are still designed for a carrier-centric network. They involve big switches and complex management systems, and I'm sure there will continue to be a large market for that. But some of us in the Internet community are saying we have a different model."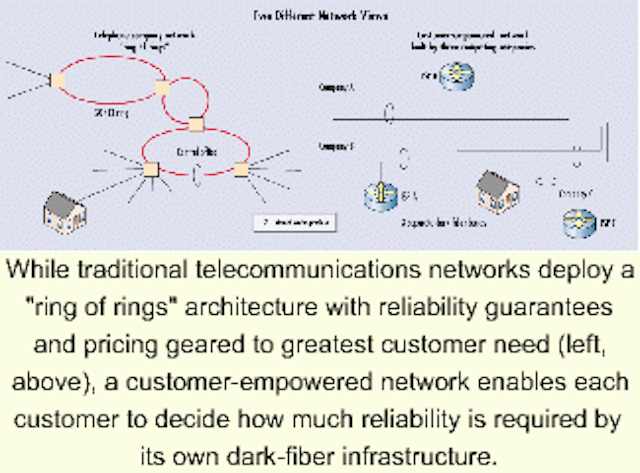 While traditional telecommunications networks deploy a "ring of rings" architecture with reliability guarantees and pricing geared to greatest customer need (left, above), a customer-empowered network enables each customer to decide how much reliability is required by its own dark-fiber infrastructure.
That model is largely premised on what's already been done with today's Internet, which is essentially a virtual data network riding on top of a traditional telecommunications infrastructure. CANARIE suggests taking that Internet model of autonomous peering networks and moving it into the optical domain.
"We see a future where optical switching and wavelength management will be done, not by a big central switch and complex management system of a large carrier," says St. Arnaud, "but by autonomous optical networks modeled like the Internet but for the optical domain."
The economics of the condominium-style dark-fiber agreements are fairly straightforward: The more people involved, the less cost for everyone. The networks are based on a technology called coarse wavelength-division multiplexing (CWDM) and 10-Gigabit Ethernet which, in combination with dark fiber, provides all the ingredients to build a terabit network without involving a carrier.
"We believe this will fundamentally change the whole dynamics of the telecom industry," says St. Arnaud. "It will enable nontraditional carriers such as universities, schools, and businesses to start deploying their own 'real private networks' and even some long-haul networks, independent of any local carrier. We believe things such as reliability should be a customer's choice, not dictated by the highest demanding customer on the network."
But before nonprofit organizations in countries such as the United States get too excited about the concept of building their own carrier-independent networks, they should consider the different regulatory climates. Canada has one national regulator that sets all national policy and pricing for things such as right-of-way costs and pole fees. That being the case, Canada offers a much friendlier environment in which to construct customer-empowered data-network architectures as proposed by St. Arnaud and CANARIE.
In the United States, however, there are public utility commissions (PUCs) that, in most states, will tend to discourage privately owned telecommunications architectures. It's the PUCs that largely regulate support-structure agreements, which vary from state to state in terms of the flexibility and freedom allowed for nontraditional carriers to deploy these types of architectures.
For example, in Oregon and Washington there are several municipalities, including Seattle and Spokane, where deployment of dark-fiber networks is being carried on, similar to that in Quebec. Yet in Texas, says St. Arnaud, when a proposal was made to network several schools with dark fiber, the regional Bell operating company (RBOC) got the legislature to pass a law banning any nonprofit organization from putting in its own telecommunications services.
"Their plans suddenly came to a screeching halt," says St. Arnaud. "Now, they're forced to buy services from the RBOC at enormous cost. Years ago, we saw similar battles take place for cable-television access. So I think its going to take a lot longer in the United States to resolve these types of regulatory problems."
Canada and Sweden, however, are leading the way enabling the condominium dark-fiber deployments that allow what CANARIE refers to as "optical networks for the rest of us." The cost savings can be significant. Once the fiber is deployed by all parties involved, a typical school begins with a Fast Ethernet transceiver with 100-km lasers. In some cases, repeater sites may be included for longer distances and usually include a Fast Ethernet switch. Many applications are already deploying gigabit transceivers. In Alberta, educators have built a province-wide, dark-fiber, CWDM Gigabit Ethernet network.
In CWDM technology, wavelengths are 200 GHz or further apart stretching from 1310 nm to 1550 nm. CWDM offers the advantage of not requiring the temperature-stabilized lasers needed by a typical dense wavelength-division multiplexing (DWDM) system. The filters can also operate over a much broader band because narrow filters aren't a requirement for the individual wavelengths. Most applications only require four wavelengths, but can use as many as eight. Thus, CWDM can provide up to eight wavelengths over distances of about 100 km at far less an expense than DWDM.
"It's sort of a step back from the push to DWDM," says St. Arnaud. "But we're not using SONET [Synchronous Optical Network] either, which is also very expensive. Instead, we take off-the-shelf Gigabit Ethernet equipment, which is substantially less expensive. In the Alberta network, they're running four Gigabit Ethernet channels over a CWDM system. One channel is reserved strictly for video and three are used for data transmission."
CANARIE views its new network concept as an embodiment of a larger development and a change in society's information highway. Its mandate is to foster and accelerate the deployment of the information highway in Canada through the advanced Internet. The concept of customer-empowered networking is seen as a fundamental shift, or even a disruptive technology, similar to what the PC has done in the computer industry. Using dark fiber, CWDM, and 10-Gigabit Ethernet, schools will soon be running their own terabit networks to do new and exciting things that could not be done with leased carrier services, says Arnaud.
"We expect the commercial sector to eventually recognize and embrace these new technologies," he says. "The same drivers that make it appeal to the educational community could eventually take fiber to the home. That's our next big step--extending this model to the home. We think the main application will be delivering very-high-speed Internet to power users in the home."
CANARIE's business case is strictly aimed at optical-data networking. The architecture is not designed for voice or video. When it comes to the home, the suggestion is a continuing need for three parallel networks-legacy copper for voice, legacy coax for video, and fiber for high-speed Internet. That definitely seems to go against the grain of today's push to converge all services onto a single network. But convergence is still expensive, St. Arnaud claims.
"Convergence immediately drives up the cost of a network," says St. Arnaud. "If you converge, you have to worry about a whole host of issues, particularly in voice telephony, which drives up costs. You also have to go through the legacy carriers. We're empowering customers to take control of, own, and design the network that meets their particular requirements rather than being delivered an out-of-the-box service with features they may not need but will ultimately end up paying for."
The CANARIE vision has taken hold in Canada and a few other places. But without regulatory changes in other regions of the world, including the United States, it will likely be a long time before condominium dark-fiber ventures become popular options. The appeal is clear, with dramatic cost reductions, fast payback on investments, and customer empowerment making a strong case for a viable networking alternative. But for now, laws and regulations are still laws and regulations.