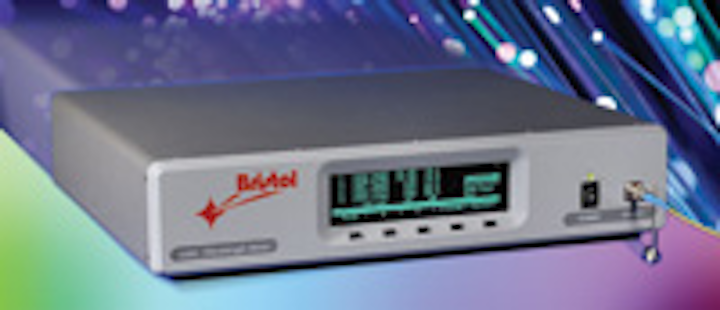 For advertising information, contact Kathleen Skelton.
Test and Measurement
Optical Wavelength Meters
Bristol Instruments
Optical wavelength meters precisely characterize the wavelength of DWDM lasers. Multi-wavelength meters measure wavelength, power, and OSNR of DWDM signals. High accuracy and reliability achieve the most meaningful test results.
Equipment Design
USB To Fiber Optic Bit-Driver
S.I. Tech
Supports USB 1.1 and 2.0 plug and play, multimode or singlemode for secure communication, remote security cameras, instruments, or other USB devices, extended-distance. EMI/RFI immunity. Order: 1.KIT #26 for complete multimode system. 11.3181/3182 for tempest version.

www.sitech-bitdriver.com
FTTx
Industry-1st 24 –F Armored "Cross-Over" Cable
Sumitomo Electric Lightwave
Sumitomo's new "Cross-Over" Cable combines buffer tube design and strength of standard 600lb Outside Plant Cable with flexibility of a Drop Cable. This design eliminates costly fillers, providing reduced OD, unprecedented flexibility, and ease of entry. Dry & Gel Versions. Call 800-358-7378.
Test and Measurement
WAN Emulator with Ethernet / Optical Interfaces
GL Communications Inc.
GL's IPLinkSim™ emulates real-world conditions of WAN (terrestrial, wireless, satellite, or internet). Test the performance of network-dependent applications with user-selected & auto-negotiated bandwidth (up to 1Gbps), latency, background traffic, and packet loss rates.
Networking
HV264
Supertex Inc.
The HV264 4-channel amplifier operates close to 200V, and offers a modular design option for designers of MEMS micromirror/optical networking and other HV Drive applications.
FTTx/Enterprise Networks
New Industry-1st Quantum V-Groove Splicer
Sumitomo Electric Lightwave
Most technologically advanced, competitively priced, V-Groove fusion splicer! 1st & ONLY industry features include patented independent dual heaters, full touch screen control, USB interface for 24/7 remote maintenance, SD port for virtually unlimited data storage, plus more. 800- 358-7378.
FTTx
Cost Effective Headend Optical Management Platform
Lindsay Broadband
Lindsay Broadband LBAGX of Headend/Hub Optical modules are a family of Optical splitters, filters, Multiplexers and Demultiplexer modules. Modules will fit most existing rack mount chassis, or the LBAGX 3RU chassis complements the package. Telcordia GR-1209 and GR-1221 compliant.

TEST
FTE-7800 OTDR with a CWDM 8 Channel Analyzer TaskMaster.
Terahertz Technologies Inc.
US made FTE-7800 "TaskMaster" has a 1310/1550nm SM OTDR paired with an 8 channel CWDM analyzer, video scope, LTS and VFL. Contact us at 315-736-3642 or

sales@terahertztechnologies.com
Test
Integrated de-emphasis and higher output voltage for Agilent's N4960A Serial BERT 32 and 17 Gb/s
Agilent
New remote pattern generator heads add integrated de-emphasis, improved rise/fall time and jitter performance for transceiver, backplane and IC testing. The N4960A system is ideal for 100G Ethernet, CEI 28G VSR and 32G FC applications.
Test and Measurement
FiberWatch™
NTest, Inc.
Remote Fiber Monitoring System (RFMS) utilizing OTDR technology can quickly pinpoint fiber failures on a map, detect network intrusions, and track fiber degradation for core fibers and PON fiber deployments.
More LW Articles
Past Lightwave Issues