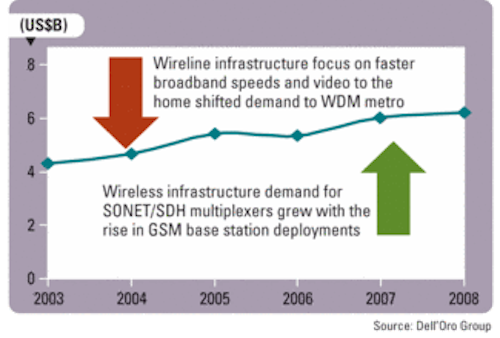 By Jimmy Yu
Overview
Countervailing trends have simultaneously kept the SONET/SDH market afloat and foretold its demise. However, it appears the headwinds the market faces are getting stronger.
The optical network has been evolving to accommodate the growing demand for transporting large data and video streams. Because such traffic is economically served better with WDM than with SONET/SDH systems, stories predicting the imminent death of the SONET/SDH market have been circulating for at least a decade.
While it is true that the WDM system market will eventually overtake the SONET/SDH multiplexer market as users continue to increase their appetite for bandwidth, rumors of its demise are still premature. In fact, the metro network is still principally serviced by SONET/SDH multiplexer systems. The market for SONET/SDH multiplexers was 2× larger than that for WDM in the metro (WDM metro) during 2008, and, rather than diminishing, the market for SONET/SDH multiplexers grew over the past five years and is now nearly 45% larger than it was back in 2003.
The simplest way to explain why SONET/SDH still shines is that as long as voice drives revenue, there will be a market for SONET/SDH multiplexers to deliver a quality experience for the user. While wireline telecom operators have already achieved network coverage for voice services and switched their focus to data services, wireless telecom operators are still focused on voice services to drive their business. These two opposing forces continue to mold the SONET/SDH multiplexer market (see Fig. 1).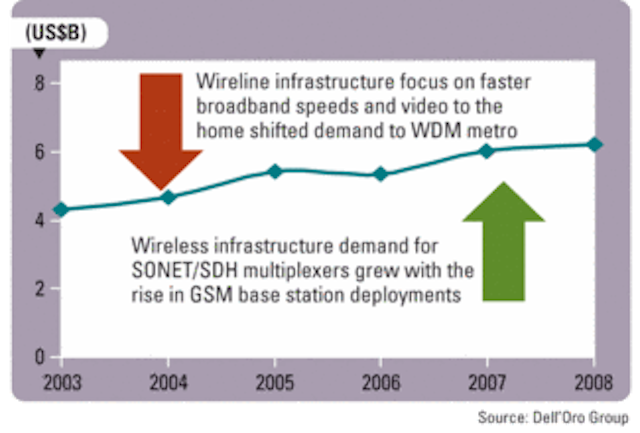 Figure 1. SONET/SDH market revenues have grown nearly 45% over the past five years.
The changing requirements of wireline telecom operators create a negative force. Over the past decade, wireline telecom operators have focused on delivering new services beyond plain old telephone services (POTS). This migration to offerings such as faster broadband speed and video services has shifted the operators' demands toward equipment that can economically deliver higher data rates.
The access network, in response, has evolved to VDSL and PON equipment capable of delivering upwards of 100 Mbps to homes once serviced by a DS-0 line rate of 64 kbps. Optical equipment to backhaul these new services at the aggregation sites must be able to transport multiple Gigabit Ethernet (GbE) trunks, a requirement that quickly maxed out the capacity of the largest SONET/SDH multiplexers and created a demand for WDM metro as an economical optical transport alternative.

Figure 2. Migration to WDM systems as broadband access rates increase.
During the same period, the positive market force the wireless telecom operators created drove continued growth in the SONET/SDH multiplexer market. The wireless telecom operators wanted more subscribers and an increasing number of base stations to ensure a high-quality voice experience. As wireless coverage proliferated and voice quality improved, users increasingly began choosing mobile phone service over fixed phone, disconnecting their homes from POTS. The equipment used to backhaul mobile data from base stations continued to be multiple T1 (1.5-Mbps) line rates over copper or microwave. The optical equipment to backhaul at the aggregation sites to ensure voice quality and network protection also continued to be the "tried and true" technology–SONET/SDH multiplexers.
But as we approach a new decade, we see the wireless telecom operators beginning to follow in step with the wired world, offering its users the higher data speeds. This will, once again, favor WDM technology in the aggregation sites that are currently serviced with SONET/SDH multiplexers.
Growing use of WDM technology for optical transport has been the trend as access speeds increased beyond 56-kbps dial-up (see Fig. 2). This shift began in the long-haul network–within a few years, SONET/SDH multiplexers were rarely used as an optical transport medium across distances greater than 100 km.
Over time, as access data rates approached 30 Mbps with the advancement of VDSL and PON technology, the regional and metro core networks required an ever-increasing amount of capacity. This demand for greater capacity brought with it a migration to WDM systems that further limited the use of SONET/SDH multiplexers.
The market for WDM systems has expanded at a compound annual growth rate of 28% over the past five years, and the future will likely call for even more WDM metro systems as access technology advances to 10-gigabit PON.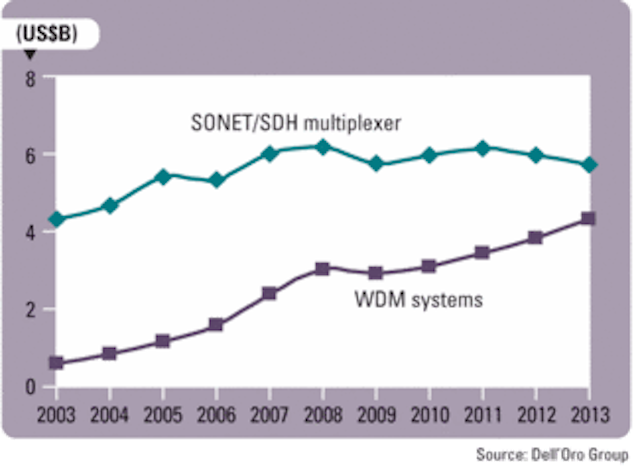 Figure 3. SONET/SDH could start descent as early as 2012. WDM metro forecast to grow nearly 50% from 2008 to 2013.
Migration to WDM technology will likely spread to the backhaul of mobile data at base station aggregation sites, as operators push to deploy higher-capacity mobile base stations to deliver ubiquitous access to high-speed broadband. The success of Apple's iPhone has shown that users will readily consume 30× the bandwidth offered with 3G and are willing to pay for it. (Operators are currently upgrading to the latest 3G mobile technology, HSPA+, with peak data rates of 21 Mbps.)
The addition of other mobile Internet devices, such as netbooks with embedded 3G connectivity, is further reinforcing the mobile data ecosystem by requiring another order of magnitude of bandwidth. The evolution to 4G mobile technologies such as LTE will accelerate this migration further, as it will have peak data rates greater than 300 Mbps per base station.
Like the wireline infrastructure, the wireless infrastructure–which, as mentioned previously and contrary to wireline, is currently voice-driven–will eventually be driven by data rather than voice services. The economics to backhaul this higher bandwidth will thus favor WDM technology in aggregation sites, including those sites currently serviced by SONET/SDH multiplexers.
These market dynamics, driven by higher broadband speeds and faster mobile networks, will eventually reduce the demand for SONET/SDH multiplexers and increase demand for WDM metro systems (see Fig. 3). Until then, the SONET/SDH multiplexer market is expected to remain in the $6 billion range and start its descent only when these wireless and wireline infrastructure changes take hold.
That may occur as early as 2012 or possibly later. In the meantime, SONET/SDH multiplexers will continue to shine.
Jimmy Yuis a director at Dell'Oro Group (www.delloro.com), a Redwood City, CA-based market research firm. He covers the optical transport equipment market.
Lightwave Online: Dell'Oro: 40G Will Lead Recovery after down 2009
Lightwave Online: LightCounting: OC-192 DWDM, SONET/SDH Sales Drive 3Q Optical Transceiver Industry
Lightwave Online:Dell'Oro: WDM Fuels Optical Market Growth over Next Five Years