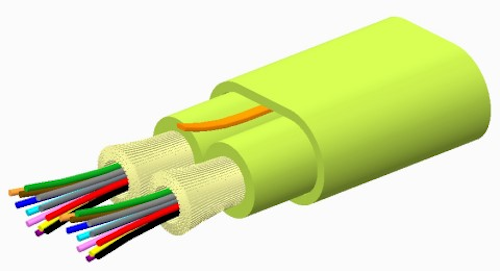 Building on technology demonstrated at OFC 2015 this past March, CommScope has introduced fiber-optic cable products that use its SYSTIMAX LazrSPEED 550 WideBand Multimode Fiber (WBMMF). WBMMF is an emerging variant on OM4 multimode fiber that supports four wavelengths instead of the single wavelength common to multimode fiber.

CommScope demonstrated the fiber alongside Finisar's shortwave wavelength WDM (SWDM) optical transceivers at OFC (see "OFC 2015 Reporter's Notebook: Day 2"). It supports optical transmission at wavelength ranges from 850 nm through 950 nm. The company now offers the WBMMF as part of the InstaPATCH 360 pre-terminated fiber cable portfolio that includes trunk cables, modules, array cords, fanouts, and duplex patch cords.

The support of four wavelengths over a single fiber opens the door to reduced fiber counts in a variety of applications, particularly those based on four wavelengths. For example, CommScope points out that WBMMF can now offer a single-pair fiber approach for 40 Gigabit Ethernet (4x10 Gbps) and 100 Gigabit Ethernet (4x25 Gbps) and 128G Fibre Channel. It also will reduce fiber count in parallel-fiber applications, including upcoming 400 Gigabit Ethernet (see "Multi-wavelength multimode fiber subject of TIA standards query").

Meanwhile, it also can be used for traditional OM4 applications.

For more information on fiber cable and suppliers, visit the Lightwave Buyer's Guide.