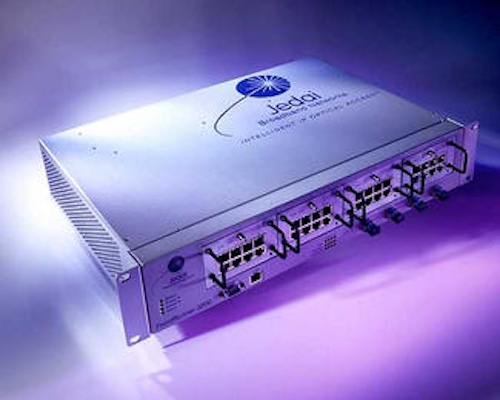 Jedai Broadband Networks Inc. today announced the availability of its FrontRunner 3200 access switch router with integrated TDM telephony. The FrontRunner has been in lab and field-testing with several North American cable operators and has proven to be rock solid, claim company representatives. To meet the demand and the mission-critical system requirements of network operators, Jedai worked with Intel to design Intel switching technology into the FrontRunner and with Flextronics for its manufacturing expertise.
Jedai manufactures a complete broadband access solution, which enables service providers to offer enterprises traditional and advanced telephony and data services at what the company contends is groundbreaking economics. Jedai's solution, based on Ethernet and open standards, is robust and provides standard interfaces to existing telephony and data systems. The system also provides an easy migration to higher bandwidth and emerging applications such as VoIP.
The FrontRunner 3200 provides layers 2 and 3 routing and switching, telephony circuit emulation services, bandwidth control and management, multi-layer classification, and Quality of Service. Key features include support for protected ring topologies and channelized T1 voice transport. The product generates and/or receives legacy telephony network clock timing, ensures proper clock propagation through the network, and provides less than 50-ms protection switching. Other features include support for Rapid Spanning Tree Protocol, Neighbor Discovery Protocol, Topology Discovery Protocol, port and VLAN rate control, and port mirroring.
Jedai, an Intel Media Switch alpha customer and Intel worked together to design-in Intel's latest Media Switch silicon in to the FrontRunner. The FrontRunner 3200 boasts 12.8-Gbit/sec and 9.5-Mpps wire-speed routing and switching.
Flextronics, provider of electronics manufacturing services, is manufacturing the FrontRunner 3200 for Jedai.
For more information about Jedai Broadband Networks (Red Bank, NJ) or its products, visit the company's Web site at www.jedai.com.
The FrontRunner 3200 from Jedai Broadband Networks