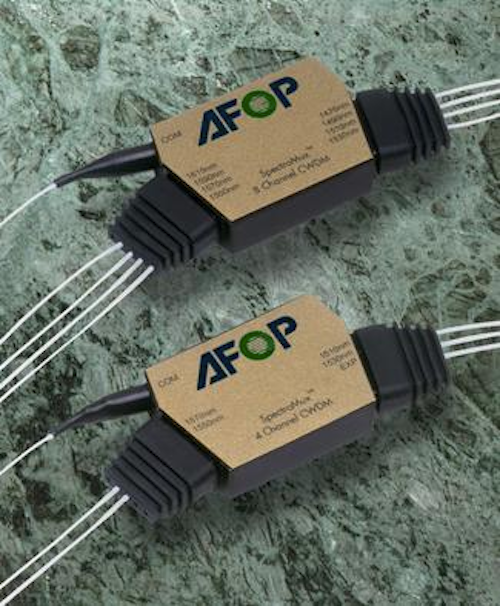 Alliance Fiber Optic Products Inc. (AFOP) today announced the new products it plans to exhibit at the upcoming Optical Fiber Conference (OFC), including the SpectraMux compact CWDM module, a modular CWDM chassis system, a polarization insensitive isolator, and an optical circulator. OFC will be held March 25 - 27, 2003, in Atlanta, GA.
SpectraMux Compact Coarse WDM
The new SpectraMux Compact CWDM module design offers significantly reduced cost in a package ¼ the size of conventional CWDM modules, say company representatives. Its 20-nm channel spacing and wide bandpass characteristics make the module ideal for use with non-temperature controlled lasers. Other features include high center wavelength accuracy and stability, low insertion loss, high directivity, an epoxy-free optical path, and low polarization dependent loss.
The Compact CWDM mux/demux is available in four or eight channels and includes an expansion port. AFOP's SpectraMux Compact CWDMs are designed to meet or exceed Telcordia requirements for performance and reliability. Custom wavelengths and channel configurations are also available.
Modular CWDM Chassis System
AFOP continues to build on its CWDM product line with the release of a Modular CWDM Chassis system. The system is designed to accept all of the company's CWDM functions, while offering the user greater flexibility in deployment, claims the company. The CWDM Line is ideal for use in system designs where expansion or later modifications are important. Custom versions are also available to meet special applications.
Isolators
AFOP will also exhibit single stage and dual stage optical isolators, which minimize back reflection and reverse transmission at any state of polarization. The Polarization Insensitive Isolator (PII) is a low cost model with excellent performance, including low insertion loss, high isolation, low Polarization Dependent Loss (PDL) and Polarization Mode Dispersion (PMD). The device has an epoxy free optical path, making it ideal for use in high power Erbium-Doped Fiber Amplifier (EDFA) applications. It is available in both C- and L-band versions.
Circulators
AFOP's Optical Circulators are non-reciprocal devices that redirect light sequentially from port-to-port in only one direction. In advanced optical communication systems, circulators are used for bi-directional transmission, WDM networks, fiber amplifier systems, and for optical time domain reflectometer (OTDR) measurements, explain company representatives. AFOP's 3- and 4-port circulators feature a small package size, high isolation over a wide operational wavelength range, low insertion loss, low polarization dependent loss, and excellent stability.
These products will be on display at AFOP's booth, #2450.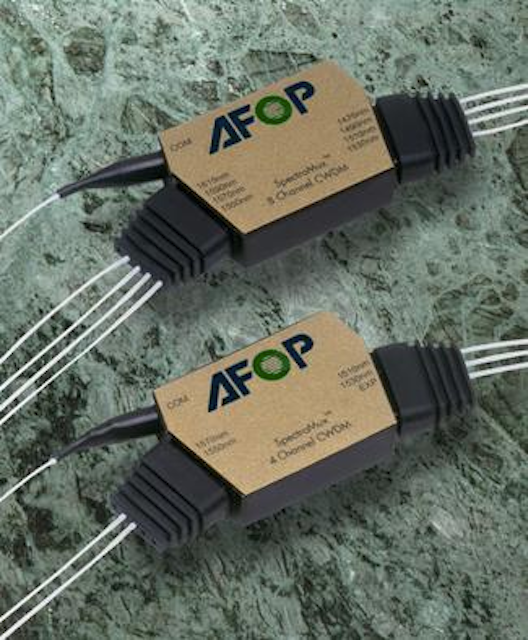 The SpectraMux Compact CWDM module is available in four or eight channels and includes an expansion port.