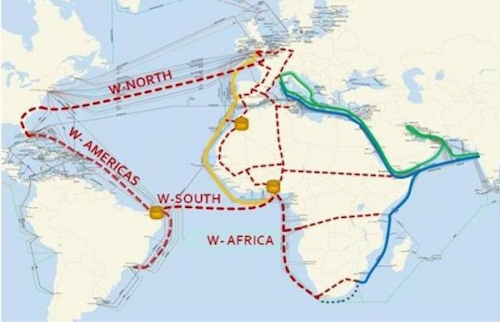 WASACE Cable Company Worldwide has announced ambitious plans to build a new submarine cable system connecting four continents – Africa, South America, North America, and Europe.

It will be the first cable system designed to use 100-Gbps transmission technology from the outset, the company claims. (Although it's not the only company with plans to use such technology; see "NTT Com plans 100G for PC-1 transpacific submarine cable network" and "Hibernia Atlantic plots transatlantic 100G course after trials with Huawei.") And it could be the first major cable to connect the developing markets in Brazil and Africa (although the planned "South Atlantic Express" cable could get there first).

The project will be divided into four sections: WASACE North connecting Europe to North America, WASACE South connecting South America to Africa, WASACE America connecting South America to North America, and WASACE Africa connecting Nigeria, Angola, and South Africa.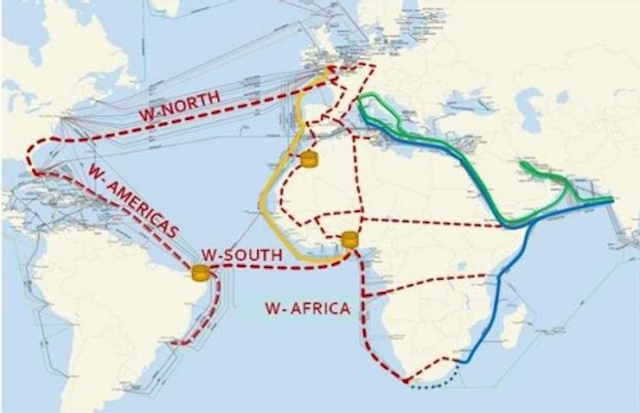 Source: WASACE

The system represents a total investment of billions of US dollars from investors on four continents, including the private equity investment firm VIP Must International, represented by CEO Patrick Perrin, and the African Development Bank, represented by COO Raymond Zoupko, as well as Brazilian and other investors.

WASACE Cable Company is headed by CEO Ramon Gil-Roldan. Project development will be handled by The David Ross Group, which has advised more than 20 undersea cable projects in the last 10 years.

The project is thought to be in early planning stages; the management team has yet to be named, and no deployment schedule was provided.