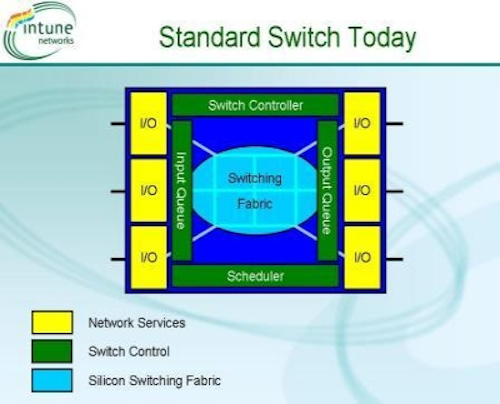 Ireland's Intune Networks is readying a carrier-class version of its Verisma optical packet switched transport platform for first office applications with a pair of Tier 1 customers this summer. As its name implies the platform – which will be marketed as the iVX8000 CR2.x – combines all-optical packet switching and transport by replacing the silicon-based switch fabric of typical switches with an optical ring that could extend as far as 300 km in circumference. Intune Networks has aimed the Verisma line initially at router bypass and router interconnection applications, which would put it squarely in competition with such platforms as Juniper Networks' recently announced PTX Series Packet Transport Switch.

How it works

As described to Lightwave by John Dunne, Intune Networks' CTO, the Verisma technology starts with the same elements as a typical data switch. As illustrated below, that includes input/output (I/O) networking elements, switch control elements, and a switch fabric that distributes packets from one I/O to another.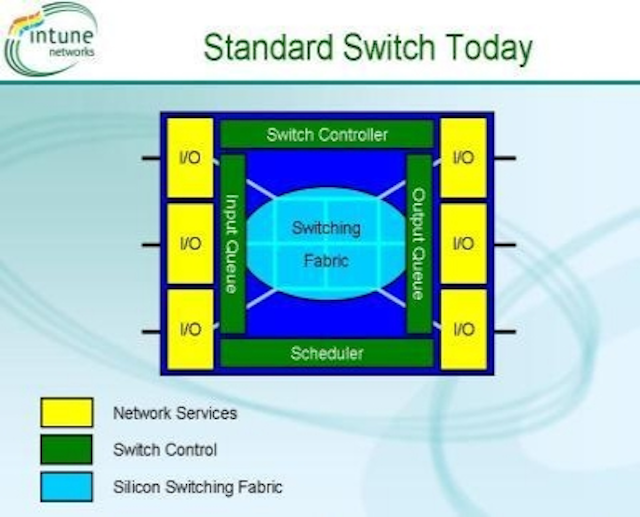 Intune Networks essentially makes each I/O element optical and gives each of these elements their own switch control features. This makes elements independent and potentially distributed entities. The elements are linked together by a fiber ring that acts as the optical switch fabric, as illustrated here: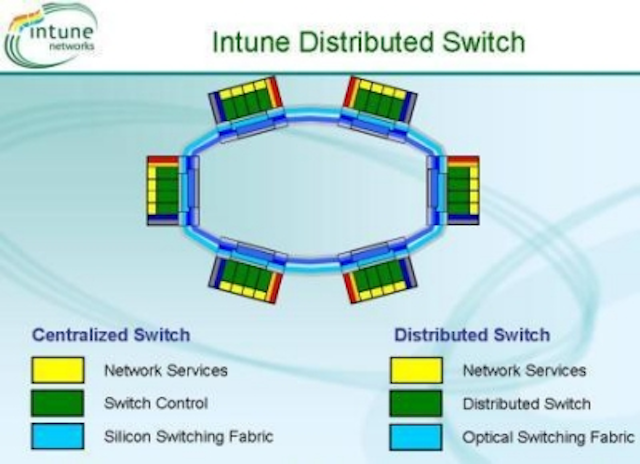 Each I/O element can be 65 km apart, Dunne says. So as the fabric is switching packets from one element to another, it's also transporting the packets from one location to another.

The switch function combines rapidly tunable laser transmitters with DWDM technology. Each I/O element receives packets on a known wavelength (or, if you're operating at greater than 10 Gbps, wavelengths). If packets need to go from I/O #1 to I/O #4, I/O #1 transmits its packets on wavelength(s) assigned to I/O #4. It then can switch at nanosecond speeds to the wavelength(s) assigned to other elements as traffic warrants. Meanwhile, each element's switch control feature monitors traffic on the ring to avoid packet collisions: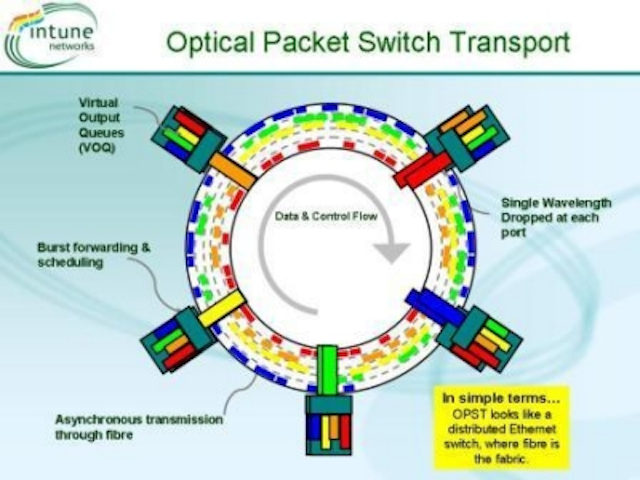 The result is completely protocol-agnostic optical packet switching, according to Dunne. Each ring could support 80 ports and 10 to 16 chassis, depending upon configuration, Dunne says. Capacity could be expanded by linking multiple rings, he adds. A second ring connecting each I/O element provides resiliency.

In addition to the novel packet switching concept, Intune Networks has adopted a provisioning approach based on the representational state transfer scheme commonly found in Web applications. This simplifies access to switching capacity and enables carriers to easily design new service applications and provide wholesale customers with the ability to provision their own capacity, Dunne says.

Next steps

Intune Networks supplied its first Verisma systems to the Irish Government, which has received 24 of the platforms for its Exemplar Smart Communications Network. Dunne says that Intune Networks has added support for Provider Bridge E-Line services for the iVX8000 CR2.x that its first carrier customers will receive. Future versions of the iVX8000 CR2.x will support Provider Edge E-LAN and E-Tree as well as MPLS-TP, he says.

Dunne declined to identify his company's first carrier customers, other than to say that one is in the United States and the other is in Europe.