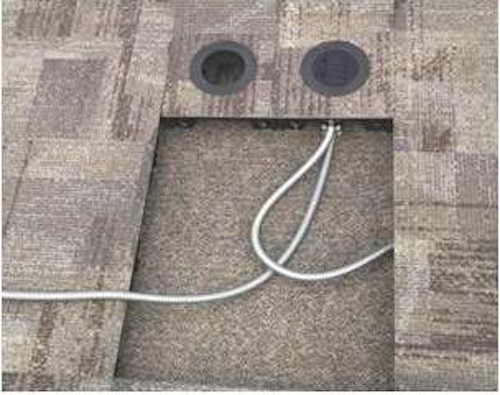 Custom Products & Services, Inc., of Inver Grove Heights, MN, says that it is among the distributors for a raised floor cable management system from PowerFlor. The system provides an unobtrusive, completely integrated, modular, plug-and-play cable management approach for data center network, enterprise network, and similar applications, according the company.

The PowerFlor system leverages a proprietary, prefabricated floor panel with as many as four recessed grommets; each grommet can contain the user's choice of power, telecom, and data ports. All of the cables and wires are terminated with the appropriate connectors to provide plug-and-play functionality. The panels also feature a preinstalled heavy duty commercial carpet for long-life use.

PowerFlor supplies a turnkey package that includes custom system design services, all hardware components, and on-site installation. The panels can be reconfigured easily as needs change without special tools or training.

For more information on cable management products and suppliers, visit the Lightwave Buyer's Guide.