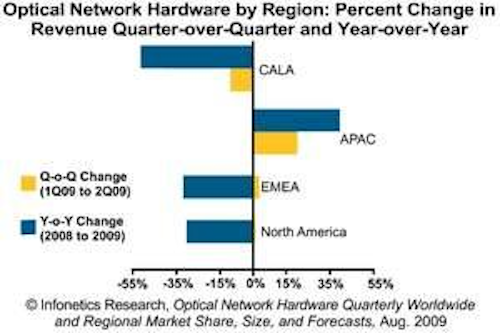 AUGUST 18, 2009 -- Communications market research firm Infonetics Research (search Lightwave for Infonetics) has released the second quarter (2Q09) edition of its Optical Network Hardware report.
"The North American optical network hardware market showed signs of improvement in 2Q09 with its first positive quarter since the end of 2007, and a milder year-over-year decrease than we saw in the first quarter, a positive trend," says Andrew Schmitt, Infonetics Research's directing analyst for optical. "We're calling the bottom in North America. Still, carriers, particularly in EMEA and North America, continue to spend carefully, and the big question is whether these carriers will execute their typical 2H09 capex budget flush. Carriers indicate that they will, but equipment vendors we speak with express skepticism and concern. It is very much a 'show me the money' spending environment," he claims.
"On the vendor front, Huawei held the number one position again as growth in Asia Pacific continues to bolster its market share globally. Over the last 12 months, Huawei derived 64% of its sales from Asia Pacific, a region that has grown while others declined. Our prediction last quarter that Huawei would seize the title of market share leader in 2009 is looking safe," Schmitt adds.
From 1Q09 to 2Q09, worldwide optical network hardware revenue increased 7% to $3.4 billion. The success of packet optical transport system (POTS) platforms is the best story in the optical market for the coming years, according to the report, with the segment growing strongly mainly due to great performances from Alcatel-Lucent, Fujitsu, and Tellabs.
Longer term, Infonetics sees acceleration toward more WDM spending as carriers in developing nations are showing a strong preference for the latest generation of optical equipment. Carriers that used to purchase legacy equipment are starting to look at the latest WDM, ROADM, and packet optical transport equipment in conjunction with plans for 3G, LTE, and broadband deployments.
Infonetics' quarterly optical report tracks ADTRAN, ADVA Optical, Alcatel-Lucent, BTI, Ciena, Cisco, Corrigent, ECI, Ericsson, Fujitsu, Huawei, Infinera, NEC, Nokia Siemens Networks, Nortel, Sycamore, Tejas Networks, Tellabs, Transmode, Turin, ZTE, Xtera, and others.
The report provides worldwide and regional market share, market size, forecasts through 2013, and analysis for metro and long-haul optical network equipment, including SONET/SDH (ADMs and terminals, MSPPs and crossconnects), WDM (ROADM and transport), and POTS. The report also tracks the number of ports and revenue per port for WDM and SONET/SDH products by speed (Ethernet, SONET/SDH/POS, WDM), from below OC48/STM1 to 100G.

Visit Infonetics