Carrier Ethernet equipment market projected to reach US$34B in 2013
SEPTEMBER 29, 2009 -- The largest investments are expected to be in IP core and edge routers, Carrier Ethernet switches, and optical gear.
Sep 29th, 2009
SEPTEMBER 29, 2009 -- Infonetics' worldwide and regional Carrier Ethernet report provides market size, market share, and forecasts through 2013 for Carrier Ethernet switches, IP core and edge routers, SONET/SDH equipment, WDM equipment, VDSL, fiber and copper EADs, EPON, Ethernet and dual Ethernet/TDM microwave equipment, and Carrier Ethernet ports by speed.

According to the report, Carrier Ethernet equipment manufacturer revenue is projected to grow to $34 billion by 2013.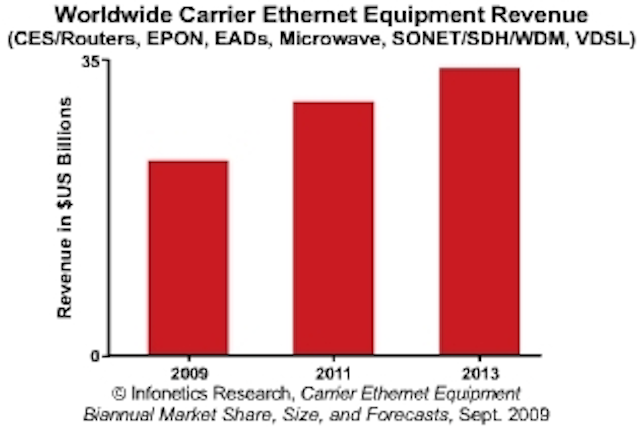 "Carrier Ethernet technology is integral to service provider IP next-gen network (NGN) projects aimed at transforming from TDM- to packet-based networks to handle ever-growing consumer, business, mobile backhaul, and video traffic. Service provider investment in Carrier Ethernet continues to defy the economic downturn and outpace overall telecom capital expenditure investments. Over the five years from 2009 to 2013, we expect service providers worldwide to spend a cumulative $146 billion on Carrier Ethernet equipment," projects Michael Howard, principal analyst for carrier and data center networks at Infonetics Research.

IP NGN transformation projects depend heavily on IP, MPLS, and Ethernet, and will gradually employ the use of Ethernet transport instead of SONET/SDH, say Infonetics analysts.

The largest investments are expected to be in IP core and edge routers, Carrier Ethernet switches, and optical gear.

The report also shows that Ethernet microwave is the fastest-growing Carrier Ethernet technology based on its use for mobile backhaul.

Currently, Cisco leads in worldwide revenue market share for Carrier Ethernet switches, IP core routers (Ethernet), and IP edge routers (Ethernet) in 2008. Juniper Networks has a strong second showing in the core routers segment.

Companies tracked in the Carrier Ethernet equipment study include Actelis, ADTRAN, ADVA, Alcatel-Lucent, ANDA, Ciena, Cisco, Corrigent, ECI, Ericsson, Extreme, Foundry, Fujitsu, Hatteras, Hitachi Cable, Huawei, Infinera, IPITEK, Juniper, NEC, Nokia Siemens, Nortel, Overture, RAD Data, Sycamore, Telco Systems, Tellabs, Transmode, Zhone, ZTE, and others.


Visit Infonetics