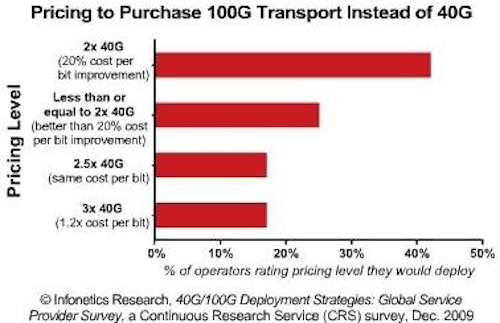 DECEMBER 27, 2009 – It won't take much of a cost per bit improvement for carriers to consider 40- and 100-Gbps technology, according to a survey of carriers conducted by Infonetics Research. The market research firm released the survey results in 40G/100G Deployment Strategies: Global Service Provider Survey, a report issued as part of its Continuous Research Service (CRS) series of service provider surveys.

Infonetics analysts Michael Howard and Andrew Schmitt surveyed telecom network operators that represent 26% of the world's telecom capital expenditures and 25% of the world's telecom revenue about:
Their plans for deploying 40G and 100G technology
The applications they are targeting for this technology
The pricing inflection points that will result in adoption of higher speed technology

"The most notable feedback was the widespread interest in deploying 40G and 100G once cost-per-bit improvements of only 20% are reached, because the network simplification these technologies offer is worth the price. The widely accepted 'four times the capacity at two-and-a-half-times the cost of the previous generation' maxim isn't reflected in carrier responses here. Moving from 10G to 40G/100G is a different story, though; 10G prices are so low now that it will remain a tough opponent for some time," notes Schmitt, who is directing analyst for optical at Infonetics.

Price isn't meaningless, however, as the following graph illustrates.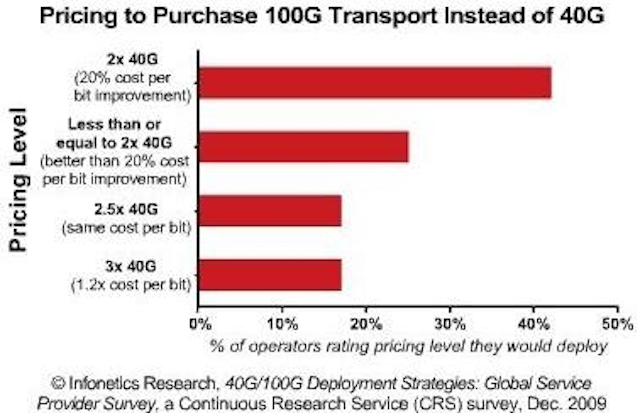 "Router manufacturers will be happy to know that 83% of the service providers we surveyed plan to use 40G for router-to-WDM connections by 2012, and 84% will do the same for 100G at some point," adds Howard, Infonetics Research's co-founder and principal analyst for carrier and data center networks.

All of Infonetics' survey respondent operators have deployed optical transport networks and have either deployed or evaluated 40G and 100G optical transport equipment, and all survey respondents are knowledgeable purchase decision-makers for optical networking equipment, Infonetics asserts.

The service providers participating in the survey are a mix of incumbent (58%), competitive (25%), and wireless (17%) operators; 50% are based in North America, 25% in EMEA, and 25% in Asia Pacific.

Visit Infonetics Research