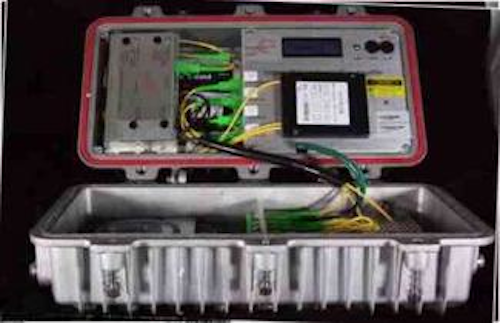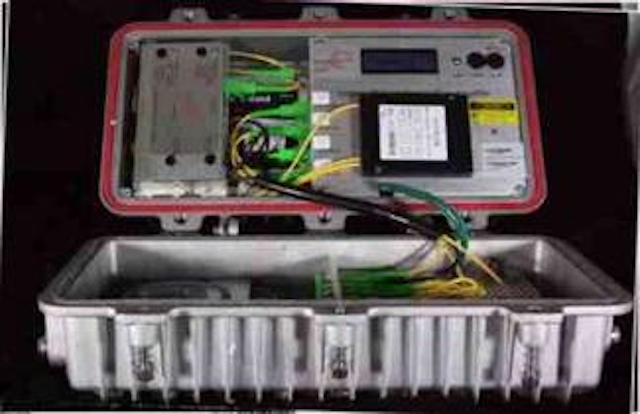 MAY 19, 2009 -- 4Cable TV Inc. has introduced the first in a line of RFoG Extenders designed to enable cable operators to extend their FTTH links by using RF over glass (RFoG) further away from the headend.
In traditional RFoG deployment, fibers are run from central locations, such as a headend, limiting the distance that the system can be deployed. With the RFoG Extender, fiber can be run from the headend to a distant location where the RFoG Extender amplifies the incoming light and then splits it in up to eight separate paths to feed customer taps. The unit simultaneously accepts the 1310-nm return from the customer's home, processes it and returns it, on the same fiber or an additional fiber back to the head end and the CMTS.
The unit is housed in a strand-mounted outdoor aluminum housing, is powered by 40-90 VAC, and is capable of operating in temperatures from -40 to +140 degrees F. The return portion of the RFoG Extender is capable of processing a return signal of -26 dBm while delivering a minimum of 30 dB C/N.
The RFoG Extender is presently configured as a 1550-nm downstream and a 1310-nm upstream. However, a 1590- or a 1610-nm upstream option is available on request. The unit can be configured with a 13- to 26-dB internal EDFA.
Visit 4Cable TV
For more FTTH news and resources, visit the FTTX Resource Center