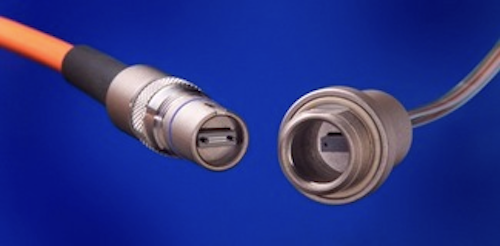 March 29, 2006 Lisle, IL -- Molex's Circular MT cable assemblies are a high-density platform for telecom equipment applications such as hubs, routers and data centers, as well as for instrumentation such as test equipment, switches, and video systems. With a metal housing and a stainless steel push-pull locking ring, Molex says the cable assemblies offer a more robust MT ferrule-based interface, compared to traditionally rectangular, ribbon-based optical interfaces.
According to the company, the cable assemblies' enhanced design ensures improved alignment benefits, increased pull-strength, and enhanced fiber management. The recessed MT ferrule in both the connector and receptacle housing ensures that it's "scoop-proof," preventing damage to the precise MT alignment pins and ferrule endface during connector handling and mating. The use of 12 to 72 loose fibers in a single round, "ruggedized" cable improves fiber management over traditional flat ribbon assemblies by allowing 360-degree cable rotation.
"With performance demands and density requirements constantly increasing in critical, high-reliability applications, such as medical, military and telecommunications, Molex saw the need for a more robust cable assembly design," comments Tom Schiltz, product manager, Molex Inc. "The Circular MT cable assemblies expand Molex's diverse MT ferrule-based product lines to offer our customers a complete end-to-end solution, allowing their systems to meet next generation demands."
The Circular MT is offered as a terminated cable assembly and customized for each customer's application. The cable assemblies use industry-standard MT ferrules with fiber counts ranging from 12 to 72 fibers. The products' o-ring and Electro Magnetic Interference (EMI) gaskets provide a design that helps to isolate dust, moisture, and EMI to ensure optimal performance.