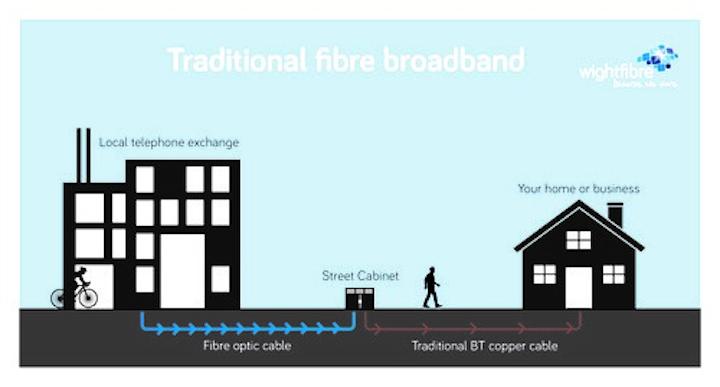 Cable television service provider WightFibre announced at the Solent Digital Conference in Cowes that it has received a £35 million investment to build a full-fiber, future-proof, ultra-fast broadband network throughout the Isle of Wight.
WightFibre's new full-fiber broadband network will be built over the next five years and will provide speeds of up to 1 Gbps to more than 50,000 homes and businesses throughout the island, establishing what it attests is the UK's first "Gigabit Island." The network will encompass parts of the island that WightFibre previously did not serve.
In November of 2016, the UK Government pledged more than £1 billion to fund broadband network infrastructure deployment into 2021, including £400 million from the new Digital Infrastructure Investment Fund (DIIF; see "UK Government's Autumn Statement targets new FTTP connections"). WightFibre says it is the country's first company to secure an investment from the UK's DIIF.
The island's current broadband infrastructure uses fiber-to-the-cabinet (FTTC), but uses copper twisted pair from the cabinet to the home. Conversely, full-fiber broadband, uses fiber optic cabling from the exchange into the home.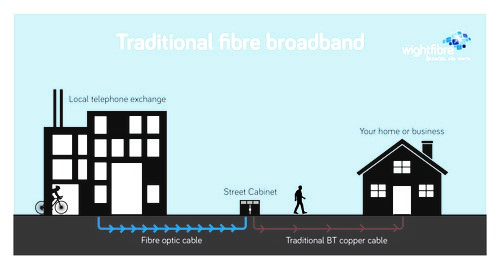 Isle of Wight's current broadband infrastructure using FTTC, but using copper twisted pair from the cabinet to the home. Full-fiber broadband, using fiber-optic cabling from the exchange into the home.
Securing 34 jobs and creating approximately 20 permanent jobs, the investment will also develop 120 temporary jobs during the build phase of the new network, WightFibre says.
"Just 10 years ago few of us could have imagined just how much we would all be using the internet both at home and work," said John Irvine, WightFibre's chief executive officer. "Traditional copper networks have struggled to keep up with demand. The new WightFibre full-fiber network will be capable of handling the islands broadband demands for decades to come, catapulting the island into the front line of the new digital economy".
Over the coming months, WightFibre will offer further service availability details. The company says that until then islanders interested in the service can visit www.wightfibre.com/gigabitisland.
For related articles, visit the Network Design Topic Center.
For more information on high-speed transmission systems and suppliers, visit the Lightwave Buyer's Guide.