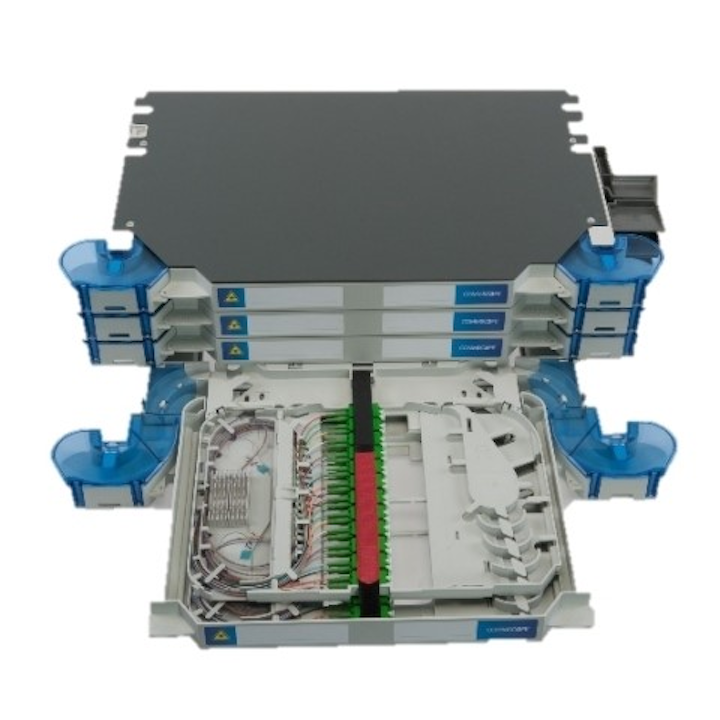 CommScope used Fiber Connect 2018 in Nashville this week to debut its FACT optical distribution frame (ODF) for the first time in the Americas. Visitors to the company's booth were able to test the new flexible, high-density frame.
According to CommScope, the FACT ODF has translucent blue fiber protection lids for straightforward cable routing, along with front panel access. Based on company testing, the snap-on, tool-less design demonstrated the ability to halve installation time and enable technicians to progress with future growth of their network.
"After success in other regions of the world, we are bringing the convenience of the FACT ODF to North America and the CALA region in the next couple of months," said Erik Gronvall, CommScope vice president of strategy and market development. "It has full front access for frames that need to go up against the wall in a central office or data center with little floor space. Technicians don't have time to move full panels to change or install from the back, especially when there's not a lot of space. This allows easier access to get the job done faster. It's as simple as that."
At the show, a CommScope source demonstrated the ability to pop out connector pairs for troubleshooting without rear access. Trays can be paired for master/slave operation as well. The company has sold the FACT ODF in the EMEA and MENA markets for some time, said the source. The Americas version includes new features, such as the ability to accommodate MPO connectors and splitters, to better support regional requirements. The source said the FACT ODF should be available in the Americas in the fourth quarter of this year.
For related articles, visit the Network Design Topic Center.
For more information on high-speed transmission systems and suppliers, visit the Lightwave Buyer's Guide.