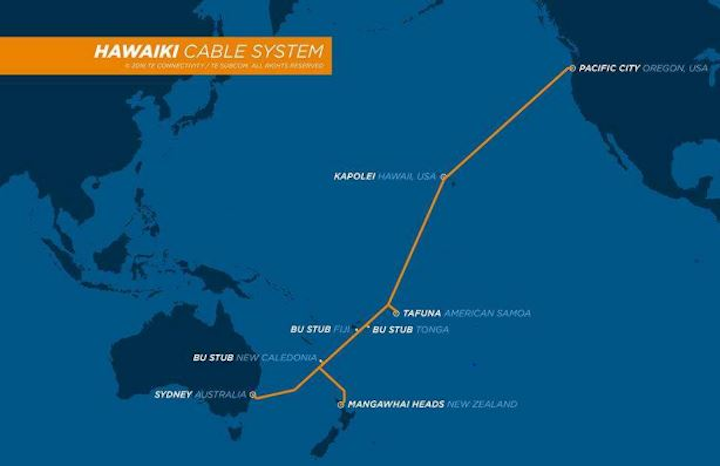 The Hawaiki system is on track for completion in June 2018. (Source: TE SubCom)
Hawaiki Submarine Cable LP and its contractor partner, TE SubCom, a TE Connectivity Ltd. company, said that the final splice of the Hawaiki submarine cable has been made and all cable station installations finished, and the submarine cable system can enter final system testing. According to the partners, the Hawaiki undersea cable system should be ready for service in June 2018.
The Hawaiki cable will connect Australia and New Zealand to mainland U.S., linking Sydney, Australia; Mangawhai Heads, New Zealand; Tafuna, American Samoa; Kapolei, HI; and Pacific City, OR. The submarine net'ork's design includes stubbed branching units in New Caledonia, Fiji, and Tonga for future connections. The Hawaiki undersea cable system is implemented with TE SubCom's optical add/drop multiplexing (OADM) nodes.
The Hawaiki submarine cable network will add more than 43 Tbps of new capacity in the Pacific region to decrease connectivity cost in the area. Amazon Web Services has already signed a capacity supply agreement (see "Amazon Web Services signs with Hawaiki Submarine Cable").
"Hawaiki will bring greater connectivity, diversity, and security of supply to the market," said Remi Galasso, Hawaiki CEO. "Because of its scope and impact for communities across the Pacific region, the Hawaiki cable system is a critical and multi-faceted endeavor. We are pleased with the progress to date and are looking forward to the project's completion in June and the much needed capacity it will bring to the region."
For related articles, visit the Network Design Topic Center.
For more information on high-speed transmission systems and suppliers, visit the Lightwave Buyer's Guide.