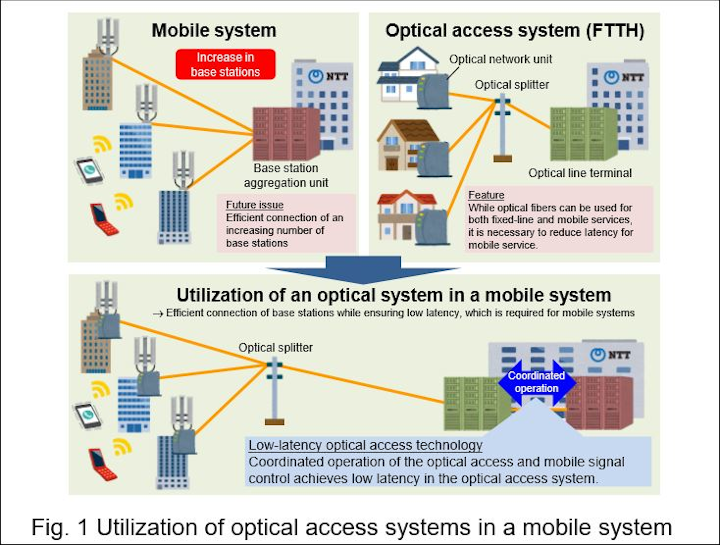 Nippon Telegraph and Telephone Corp. (NTT) said it has developed low-latency PON-based optical access technology to decrease the number of optical fibers required for base station connectivity, particularly in 5G networks. Additionally, the Japanese telecommunications company has conducted a feasibility trial in which the optical access system has operated in coordination with a mobile system.
An optical access system is used to connect optical network units (ONUs) at the customer premises to optical line terminals (OLTs) in a telecom office via a fiber to the home (FTTH) network. However, typical PON access systems cannot meet the latency requirements necessary to support mobile systems. NTT says its optical access technology solves this problem. The technology enables OLTs to operate in coordination with the signal control by the base station aggregation unit, thereby reducing latency.
Specifically, NTT's approach enables the base station aggregation unit to pass along alerts to the OLT of the amount of data the ONU plans to send to it. The optical access system thus operates in coordination with the mobile system, eliminating the round trip signaling procedures used by conventional optical access systems in such scenarios and therefore reducing latency.
NTT believes that applying PONs enabled via its technology would enable more efficient use of optical fibers between a telecom office and base stations than point-to-point connections currently require. According to NTT, the lower fiber count would not only decrease the number of optical fibers required, but port counts at the base stations aggregation unit as well.
NTT says it plans to continue research to further develop the technology. The company says it also has presented the technology to the ITU-T for potential inclusion in upcoming standards.
For related articles, visit the Network Design Topic Center.
For more information on high-speed transmission systems and suppliers, visit the Lightwave Buyer's Guide.