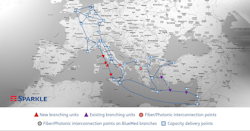 Sparkle
Infinera (NASDAQ: INFN) says it has supplied its XT-3600 optical transport platform to Italy's Sparkle. The service provider is using the optical network hardware in the construction of the Nibble Network, an ultra-long-haul fiber-optic backbone network that will link Sicily with points of presence and data centers around Europe.
The Nibble deployment will progress in multiple phases through the end of 2020, says Sparkle. The first fiber route, planned to go live this summer, will connect Sparkle's Sicily Hub in Palermo with the Milan Caldera data center. Eventually, Sparkle envisions Nibble linking with the service provider's current Mediterranean and Balkans fiber networks as well as the new BlueMed submarine cable that will link Palermo and Milan via Genoa. Sparkle expects BlueMed to be ready for service in 2020 as well.
Nibble will leverage not only Infinera's XT-3600 optical transport platform for 100 Gigabit Ethernet transmission but its Instant Bandwidth (says Infinera) and Instant Network (says Sparkle) capabilities. Instant Network is a license-based capacity enablement approach through which Sparkle will be able to turn up additional bandwidth on various links quickly and automatically (see "Infinera offers Instant Network, Automated Capacity Engineering capabilities").
"Sparkle confirms its strong leadership in the European telecom market with a solution that ensures top quality and efficiency standards," said Mario Di Mauro, Sparkle's CEO. "The Gigabit Society is demanding faster and more sophisticated capacity services and with the Infinera Instant Network solution we can expand our geographical footprint and satisfy customers' needs at light speed, investing only in the capacity we need to deploy, where and when we need it."
For related articles, visit the Network Design Topic Center.
For more information on high-speed transmission systems, visit the Lightwave Buyer's Guide.