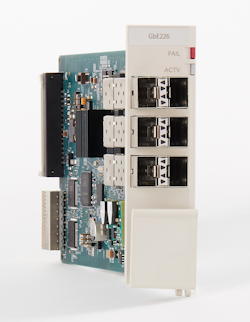 Tellabs says it has supplied the Tellabs 1000 Multiservice Access Platform (MSAP) Feature Package 17.0 (FP17) and the Tellabs 10 Gigabit Ethernet 226 (GbE226) plug-in card to a customer the company described as "a prominent North American service provider." The customer, whom Tellabs did not further identify, also has taken delivery of CWDM platforms for the fiber-optic network upgrade.
Tellabs says its customer has deployed the GbE226 card and the CWDM technology to overcome bandwidth constraints at remote sites. The CWDM unit transports both the GbE226 10-Gbps uplink, derived from aggregated 1-Gbps inputs from each Tellabs 1000 shelf, and existing OC-12 TDM transport traffic. The CWDM device, installed in previously fielded Tellabs remote broadband cabinets, transmits the OC-12 traffic at 1310 nm and the GbE226 10 Gigabit Ethernet traffic at 1471 nm.
The GbE226 card features a pair of 1-Gbps/10-Gbps Ethernet SFP+ ports and four 1-Gbps Ethernet SFP ports. "The beauty of this configuration is that it cost-effectively allows TDM and Ethernet transport, from the OC-12 and GbE226 cards, to share the same fiber cables, which fixes the problem of bandwidth exhaustion at fiber constrained locations," said Mike Kavanagh, Tellabs vice president of broadband sales.
For related articles, visit the Network Design Topic Center.
For more information on high-speed transmission systems and suppliers, visit the Lightwave Buyer's Guide.