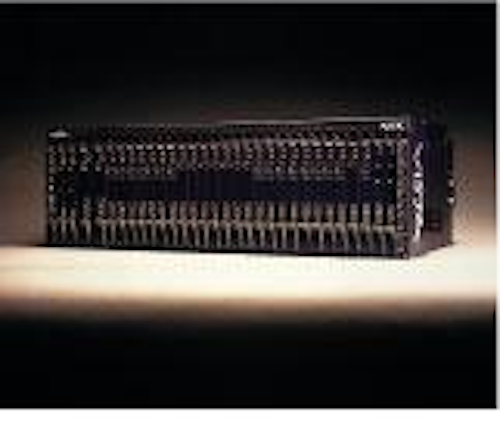 Optical networking is moving rapidly into the metropolitan area network (MAN) and local area network (LAN) areas to meet increasing demand for Internet data capacity. With that in mind, Nbase-Xyplex, a division of MRV Communications Inc., introduces its new Linux-based OSR8040 switch router. The OSR8040 seeks to take a "first step" in providing the user with an open-system design that addresses today's open application and bandwidth requirements while offering the user direct control.
The OSR8040 is the first product with a routing engine based on the Linux operating system, an open source version of UNIX, in lieu of proprietary operating systems. The use of Linux allows network managers and engineers to develop applications such as firewalls, billing, or load balancing that run on or easily integrate with the router platform. The OSR8040 is in an 18-slot chassis with a 40-Gbit/sec Asynchronous Transfer Mode (ATM)-based switching fabric, frame and cell scheduling, and high-speed application-specific integrated circuits. It supports up to 26 million packets per second of throughput, integrating high performance with an open application programming interface (API).
Optional modules provide a flexible selection of port density and speed with 128x10/100 Ethernet ports, or 32 1-Gbit/sec ports. Future modules will include 128 ATM or packet-over-Synchronous Optical Network (SONET) OC-3 (155-Mbit/sec) ports and wavelength-division multiplexing (WDM) and long-reach optical technologies.
"Many backbone applications require interconnection among a number of distributed locations," says Mannix O'Connor, vice president of marketing for Nbase-Xyplex. "To accommodate MAN connections with high bandwidth, we've designed a 4-channel WDM module for the Linux switch router. Using lasers in the 1550-nm window, a link of up to 4 Gbits/sec can be built between locations using singlemode fiber. With a link budget of approximately 9 dB, a link span of 35 km is possible with the router."
The four WDM channels are directly from the switch fabric, converted to the optical realm for multiplexing and transport. Since the module uses coarse WDM, uncooled lasers can be deployed. In the enterprise core and for the MAN, this capability saves considerable cost for the optical components in the system.
With two WDM modules in the OSR8040, 35-km link spans are allowed into and out of the router. Using this design, it becomes possible to build either a star or ring MAN topology, based on the location of fiber in the network. "The four wavelengths in each link are assigned to four ports on the switch fabric," says O'Connor. "This enables the multiple protocols supported in the switch router to be multiplexed onto the singlemode fiber, creating four distinct virtual channels."
The open architecture gives the customer basic block function and programmable interfaces, including a special feature known as the programmable "packet-flow processors" for smart networking applications. These new features can be deployed without additional hardware upgrades.
According to Kathryn Korostoff, president of Sage Research Inc., most enterprises may shy away from Linux-based routers because they prefer a "set-and-forget" operating system. However, telephone companies and Internet service providers are another story.
"These are the customers that can benefit from writing their own software, allowing them to offer differentiated services," says Korostoff. "What carrier wouldn't want a programmable routing platform that would allow it to optimize network performance or create value-added services?"
With a proprietary operating system, users are restricted from adding new applications and features to their products. With Linux-based equipment, customers can access basic block functions and develop new applications. From specialized quality of service applications designed for specific network needs, to enhanced security or web caching, use of open-system software makes the OSR8040 switch router a standout platform.
These benefits are responsible for a new trend in which networking customers will begin to seek out open operating system platforms that enable modifications to features, applications, and eventually the operating system itself. According to J. Freeman, an analyst with Current Analysis Inc., these and other benefits give Linux the potential to alter the way networking equipment is built and change the balance of power among networking vendors.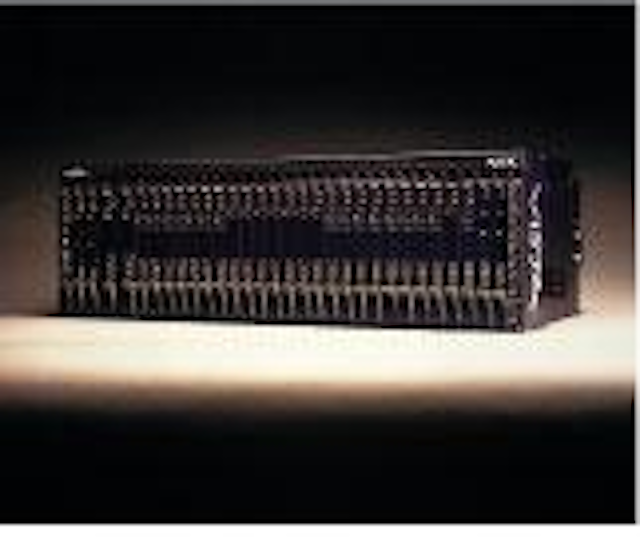 The VISTA Intelligent Access Multiplexer is an OC-3/ OC-12 unit that merges high-speed optical and electrical SONET interfaces and terminal or unidirectional path-switched ring protection with a wide selection of common loop services. In addition to the full range of standard drop interfaces such as DS-1 and DS-3, the system can host HDSL, T1, and 6-Mbit/sec optical drops, eliminating the need for additional shelves in collocated, premises, and remote cabinet applications. It combines the capabilities of a digital crossconnect, a digital subscriber line delivery system, optical DS-2 and OC-3 distribution, T1 repeater shelf, M13 multiplexer, DSX panel, and SONET ring node into one 7-inch-high shelf.
NEC Eluminant Technologies Inc.Herndon, VA
The LXT6155 is a fiber and coaxial transceiver designed for 155-Mbit/sec sonet/ SDH/ATM transmission system applications. It consumes 650 mW of power (typical) while operating from a single 3.3V supply and is used for network equipment such as digital crossconnect systems, add/drop and terminal multiplexers, DSLAMs, digital-loop carriers, and ATM/wan transmission systems. The device enables multiservice connectivity for access, edge, and backbone infrastructures for next-generation networks. It comes in a standard 64-pin LQFP package priced at $31 in units of 1000.
Level One Communications Inc.
Sacramento, CA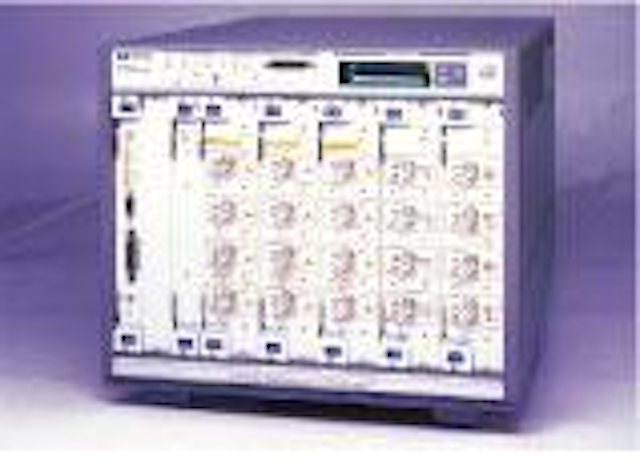 The SpectralBER is an expandable 2.5-Gbit/sec DWDM test solution suitable for high- and low-volume production of DWDM and OADM products. Using the open VXI architecture as its platform, the system provides high test-port density in a small footprint, according to the manufacturer. At 2.5 Gbits/sec, an 80-channel system can be tested with one standard rack of equipment. Key DWDM tests include BER performance, concatenated payloads to simulate live traffic, and path trace to identify individual channels for continuity tests. The system's base price is $87,480.
Hewlett-Packard Co.
Palo Alto, CA