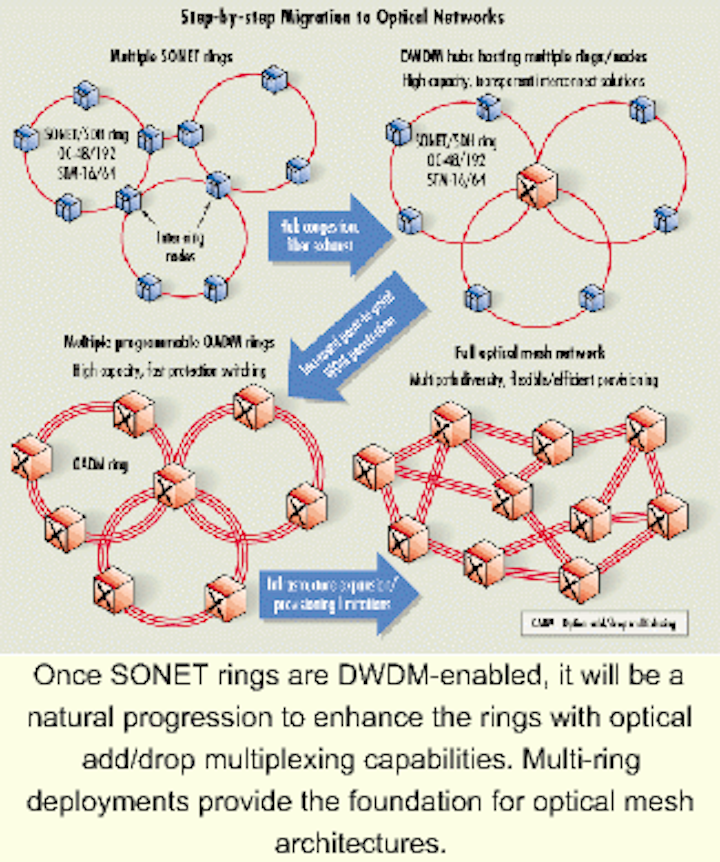 Metro-service providers will embark on a step-by-step migration toward all-optical architectures.
Baksheesh S. Ghuman
Sorrento Networks
The telecommunications industry is obsessed with metro-optical networks. In the past year, the optical space has seen what can only be defined as a disruptive revolution that has not only contributed to the economy, but also to the confusion. Not surprisingly, the characteristic that best defines today's metro networks is unpredictability, a byproduct of converging technologies, changing business models, and, of course, the Internet.
With today's potential bandwidth, metropolitan service providers (MSPs) must meet a wide range of customer requirements to succeed. Thus, MSPs have begun a courtship with "generation O" (optical) solutions in search of competitive advantages.
However, a gap exists because a complete optical solution for metro networks is not yet available. While many startup vendors in the metro area are focusing on optical access and optical transport, nearly all ignore optical switching.
All-optical wavelength-switching technology will play an integral role in bridging this "metro gap." With all the bandwidth that will be available in the metro network, MSPs will need a platform that can lend intelligence to their networks for switching, routing, and resource management.
Optical technology is not new. Carriers have been building ring topologies (both two- and four-fiber) based on SONET/SDH standards since 1980 to aggregate traffic into higher bit rates, which allows more efficient use of their networks. Today, the metro network is saturated with a hodgepodge of intertwined SONET/SDH rings. Multiple rings are often linked together to form even larger metro rings.
The topology of SONET rings comprises point-to-point links between nodes, which allow the network to add or drop traffic at major hubs. The two basic equipment elements are SONET add/drop multiplexer (ADM) devices to aggregate low-speed data to higher-speed streams and SONET digital crossconnects to groom traffic and provide switching backup.
Despite their popularity, SONET rings have some inherent limitations. For example, SONET architecture is rigid and expensive, the equipment footprint is significant, and SONET ADMs have a capacity limitation. Combined, these factors make a network inefficient, costly, and incapable of meeting rapid growth demands.
With the evolving needs of the customer and the changing face of technology, service providers are once again at a crossroads. Given the growth in bandwidth demand and the limitations of SONET networks and technology, it is evident that all-optical networks are superior. The question that remains is, will this metamorphosis happen rapidly or will it evolve as a step-by-step migration?
MSPs are already facing pressures from customers to provide new services at lower costs. To address these demands, metro operators have a few options: upgrade to higher-speed electronic equipment, light up dark fiber, or lay more fiber. The problem is, none of these options offers the highly scalable, proactive solution that an all-optical architecture will provide.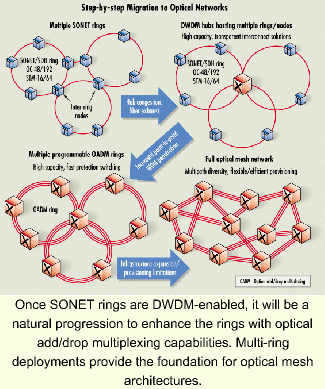 Once SONET rings are DWDM-enabled, it will be a natural progression to enhance the rings with optical add/drop multiplexing capabilities. Multi-ring deployments provide the foundation for optical mesh architectures.
The clear winner is all-optical technology. But it is also evident that full-scale deployment of an all-optical network will not happen overnight. It is more likely that a step-by-step approach is the desirable solution. A step-by-step deployment offers many benefits, including the ability to adopt a pay-as-you-grow model based on an overall network plan for upgrades. This approach allows MSPs to adapt the network to customer needs. Further, by deploying in stages, service disruptions will not be an issue. Step-by-step deployment ensures operational and technical support is ready and allows MSPs to completely evaluate all options.
If the term "all-optical" is to become synonymous with the metropolitan network, it is paramount that it meets the following three critical requirements:
It must deliver new and advanced services that are not possible with SONET.
It must perform the same tasks as SONET simply and more efficiently.
It must achieve the first two requirements cost-effectively.
Once these requirements are met, a true migration to "generation O" networks is inevitable.
The initial deployment of DWDM in the metro area has focused on solving fiber-exhaust concerns arising in MSP hubs. This deployment is driven by the rise in bandwidth demand originating on the customer premises. The unit of bandwidth has changed from OC-3 (155.52 Mbits/sec) to OC-12 (622 Mbits/sec) and OC-48 (2.5 Gbits/sec). MSPs have not been able to keep up with this demand due to infrastructure limitations. Amid fierce competition from emerging MSPs, the incumbents have resorted to deploying DWDM in congested hubs to retain customers.
Going forward, DWDM will be deployed across rings, not just to provide more services and retain customers, but also to deploy all-optical service uniformly throughout the network. Once the entire ring is DWDM-enabled, it will be a natural progression to enhance the ring with optical add/drop multiplexing (OADM) capabilities.
The metropolitan area is flooded with multiple SONET/SDH rings. As all the rings become DWDM-enabled with OADM capabilities, MSPs will want to interconnect these rings. Such a transition will be driven by the need to have a seamless network that is easily managed. Interconnected multi-ring OADM architectures offer many advantages to an MSP. Metro operators will have the ability to provide end-to-end wavelength services, reduce operating costs by eliminating equipment, and improve network simplicity and manageability. Multi-ring deployments also lay the foundation for optical mesh architectures.
There is no doubt that metro networks are headed in this direction. Mesh architectures promise to improve the efficiency of communications networks, because this topology offers numerous advantages, including the ability to immediately address network congestion, optimum routing of wavelengths, quick provisioning of services, better "fail-over-recovery" schemes, and less capacity utilization.
Finally, the requirements for an all-optical metro solution include a highly scalable multiservice platform, multiprotocol and multisignal support, point-and-click provisioning of network resources, switching and routing of wavelengths, and various levels of service guarantees. All-optical wavelength-switching technology supports all those requirements. Moreover, with this technology, metro operators can conserve their existing fiber infrastructures and embark on a cost-effective migration to all-optical architectures.
An all-optical wavelength routing switch is the cornerstone of an all-optical network. This technology lends intelligence to the all-optical network by its ability to efficiently manage wavelength in the network so that a proactive solution is possible.
The all-optical architecture enables the device to switch wavelengths without any optical-electrical-optical (O-E-O) conversion. Elimination of the electronics to do the signal conversion lowers costs and power consumption. It also simplifies operations, since there is no need to manage disparate network elements.
The all-optical switching fabric offers lower signal latency. Each O-E-O conversion adds to the signal latency through the network, which is about as efficient as taking a bus to get from one gate to another at the airport and having to check and reclaim your luggage each time.
An all-optical switch can support higher bandwidths without the need to make massive equipment changes known as "forklift upgrades." Metro operators can scale their networks to meet customers requirements and shorten the provisioning intervals.
Transparency is another important feature of all-optical switching technology. By virtue of this feature, the platform can support a variety of protocols ranging from SONET/SDH, Internet Protocol, Gigabit Ethernet, frame relay, digital video, FDDI, and ATM to Escon and Fibre Channel. This capability allows MSPs to ensure the longevity and flexibility of their networks to support the constantly changing traffic patterns and end-user requirements. Transparency also enables significant reduction in upgrade costs and promotes network simplicity.
Due to the dynamic and unpredictable nature of metro traffic, bottlenecks are commonplace. Hence end-to-end provisioning becomes all the more important. The transparency of an all-optical switching technology enables end-to-end provisioning and is also able to optimize network resources anywhere and anytime.
With all-optical switching technology, MSPs can offer a number of service definitions, thus giving operators the ability to bundle services with different optical quality-of-service and service-level agreements. This feature allows the MSPs to tailor service offerings to meet the needs of specific customers. Such flexibility is not only desirable, it can also differentiate one MSP from another, providing a competitive advantage.
Demanding end users continue to use up every bit of bandwidth, from kilobit, megabit, and gigabit to-very soon-terabit and petabit. To provide such magnitudes of bandwidth, MSPs have to gear up to meet all sorts of challenges. These challenges include multiprotocol support, fast and intelligent provisioning, survivability, bandwidth scalability, and low costs.
To achieve success, all MSPs are searching for the next sustainable competitive advantage. All-optical wavelength-switching technology is the necessary catalyst for evolving from today's generation S infrastructures to tomorrow's generation O networks.
Baksheesh S. Ghuman is vice president of marketing at Sorrento Networks (San Diego). He can be reached at Baksheesh@sorrentonet.com.