By Meghan Fuller
SYSTEMS
As large central offices scale their networks with more and more wave lengths to bit rates beyond 40 Gbits/ sec, they require a better way to manage the increase in bandwidth capacity. All-optical systems might be the solution, for they facilitate the movement of huge quantities of data. However, the manageability and controllability of such systems has proven difficult, prompting some skepticism among service providers about the viability of all-optical technology.
Engineers and architects at Tellium Inc. (Oceanport, NJ), provider of in-service intelligent optical switches, believe they have developed a solution that can handle traffic on both existing networks as well as the all-optical architectures of the future. Their third-generation platform, the Aurora Full-Spectrum (Aurora/FS), contains dual optical crossconnects, one for pure optical transport, the other for optoelectronic transport, to get, in the words of CTO Dr. Krishna Bala, "the best of both worlds."
The Aurora/FS optical-core network switch joins the company's existing product line, which includes the Aurora 32 and the Aurora Optical Switch. Slated to ship in 2001, the Aurora/FS supports OC-192 to OC-768 at 40 Gbits/sec per wavelength and scales to beyond 1,000 ports. Thanks to the optoelectronic "smart" interfaces that surround the all-optical fabric, the platform also features full network manageability.
Used in conjunction with one another, all-optical and optoelectronic technologies do seem to offer the best of both worlds. While an optoelectronic fabric is dependent on bit rate, making scaling to very high data rates (OC-768 or 40 Gbits/sec and beyond) difficult, an all-optical fabric operates independently of per-wavelength bit rate. Meanwhile, an all-optical fabric is devoid of intelligence and offers no way to monitor or control the network, but an optoelectronic fabric features the requisite intelligence for monitoring, controlling, and managing the network.
While a switch that uses complementary technologies seems to be a logical solution to the increased bandwidth-versus-manage ability conundrum, getting there wasn't an easy process.
Recalls Bala, "We kind of sat back, scratched our heads, and said, 'As the network scales, as customers add capacity to the network-larger and larger pipes-while, at the same time, upgrading the number of wavelengths, what are the implications of [these additions] on the network nodes?'" Bala and his research team concluded that the best solution would be an all-optical switch that has complete scaling in bit rate. "You can put a 10-Gbit channel through an optical fabric, or a 40-Gbit or a 100-Gbit [channel]; it does not matter because an optical fiber is a simple photonic device," he asserts.
But all-optical technology only solves part of the problem. Again, Tellium architects from both the IP and optical worlds got together, and, as Bala recounts, "We sat around and scratched our heads about how an all-optical network was fine, but how were we going to offer all the software capabilities-signaling, routing, performance management, fault management-all the good stuff that people talk about today in traditional TDM [time-division multiplexing] networks?" The answer to this question led to the use of "smart interfaces," which enable Tellium to utilize its existing protocol and software suite in the Aurora/FS, including the wavelength management system and the StarNet OS.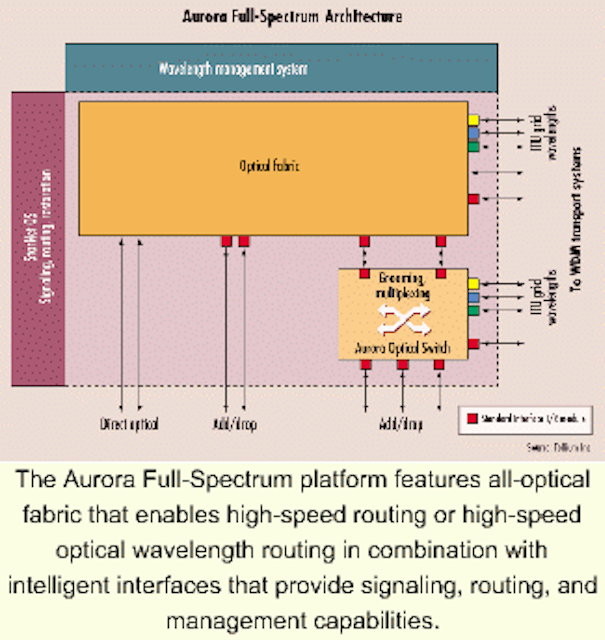 The Aurora Full-Spectrum platform features all-optical fabric that enables high-speed routing or high-speed optical wavelength routing in combination with intelligent interfaces that provide signaling, routing, and management capabilities.
The wavelength management system provides an element management program for full operations, administration, maintenance, and provisioning, while the StarNet OS enables service providers to restore networks in milliseconds if a fault should occur.
Says Bala, "One big breakthrough [with the Aurora/FS] is that customers do not have to change their software when they upgrade Tellium's existing switch products with the Full-Spectrum switch." The switch can also be used with Tellium's other software solutions, including the PlaNet planning tool and the Craft Interface Terminal, which provides a graphical interface that interacts directly with the switch.
Another breakthrough for the Full- Spectrum is its use of micro-electromechanical systems (MEMS), a technology that combines micro-electronic components with micromechanical or micro-optical components, such as mirrors, sensors, or actuators. According to Bala, an understanding of MEMS technology will be critical to future all-optical switches.
The two biggest challenges in optical MEMS are reliability and controllability of the devices, challenges that Bala believes the competition has yet to overcome. He cites Lucent's LambdaRouter and Nortel's recent Xros acquisition as Tellium's top competitors, though Cisco, Ciena, and Sycamore are also expected to make all-optical announcements in the foreseeable future.
Lawrence Gasman, president and director of core optical networking at Communications Industry Researchers Inc. (Charlottesville, VA), recognizes that it's far too early to compare the Aurora/FS to competition that does not yet exist. However, he re mains optimistic about Tellium's product for the time being. "If I were a service provider," he says, "and I put out an RFP [request for proposal] for a switch, and I got Tellium's story, I think that I would have two reactions. One is they're not offering me the most advanced technology that an MIT or somewhere can dream up; on the other hand, they are offering a solution that does seem pretty practical for my needs for the next two or three years."
So while the Aurora Full-Spectrum may or may not prove to be the best long-term solution, it certainly seems to fit the bill for the interim.