Omnitron Systems Technology Inc., manufacturer of managed and unmanaged fiber media converters for Enterprise LAN and Metropolitan Area Networks, has introduced the latest addition to its managed iConverter product line. The new Gigabit Ethernet and OC-12 Single-Fiber (SF) converters convert between copper Gigabit and single-fiber Gigabit and between dual-fiber and single-fiber Gigabit and OC-12 technologies.
Targeting the needs of Metro and telecommunication operators, the iConverter SF allows users to double the fiber capacity of singlemode fiber-optic cable and extend single-fiber trunk distances to 40 km, claim company representatives. The SF utilizes WDM technology and allows two individual channels to utilize a single fiber, which doubles the capacity of the installed fiber. The cost savings allow users to add new services and capacity without the high costs of adding fiber.
In addition to the Gigabit and OC-12 single-fiber converters, the iConverter fiber line features Ethernet 10, 100, 10/100, T1, E1, and OC-3 single-fiber and standard dual-fiber technologies.
The iConverter line features remote diagnostic features that provide quick fault detection, isolation, and reporting. An LED display on each unit provides immediate visual status of each iConverter port.
The iConverter line is SNMP managed through Omnitron's NetOutlook standalone network management software or through standard SNMP software like HP OpenView. The management feature enables the network administrator to remotely monitor and configure the iConverter units or diagnose technical problems while minimizing the number of costly remote service calls. The management agent generates traps to report special events such as module insertion or removal, link up or down, and power and temperature range violations.
The iConverter single fiber converters are available now for Ethernet 10, 100, 10/100, 1000, T1, E1, OC-3, and OC-12 technologies. Converters can be mounted in a 19-unit, a 2-unit, or a single-unit chassis with any combination of AC or DC redundant power supplies. Pricing varies based on module type and required distance.
For more information about Omnitron Systems Technology Inc. (Irvine, CA), visit the company's Web site at www.omnitron-systems.com.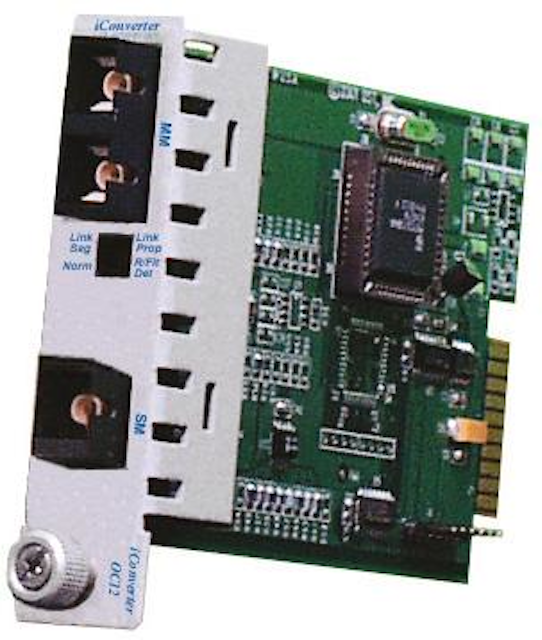 The Omnitron OC-12 Single-Fiber Converter