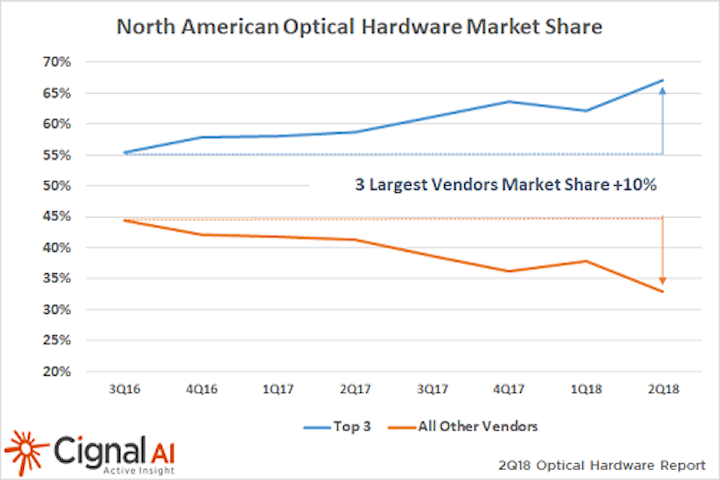 Network operators in the Europe, Middle East, and Africa (EMEA) region increased their spending on optical systems in the second quarter of 2018 by 6% year over year, says Cignal AI. However, the market research firm writes in its new second quarter 2018 (2Q18) "Optical Hardware Report" that operators in North America did not follow suit.
As was the case in the first quarter (see "MSO spending outpaces all other NA markets in 1Q 2018: Cignal AI"), spending among cloud operators in North America failed to balance investment declines among incumbent service providers, according to the report. Cloud operator spending was flat in the quarter, says Cignal AI.
"Spending on optical hardware in North America declined again in 2Q18, but the trend of big vendors performing relatively better continued," said Andrew Schmitt, lead analyst for Cignal AI. "During the past two years, the top 3 optical equipment vendors in the region consolidated 10 percent of the market at the expense of smaller competitors. It's becoming a much tougher fight for smaller optical equipment vendors in North America."
As the chart above illustrates, the 2Q18 revenue declines from North America for smaller vendors continue a nearly two-year trend. While all vendors reported growth in EMEA during the quarter, says Cignal AI, the major vendors did particularly well. Ciena, for example, reported record revenues for its operations in EMEA, while Nokia also did particularly well, including strong sales of submarine line terminal equipment (SLTE).
Huawei, meanwhile, reported record revenues in China, despite the overall drop in Chinese vendor revenues driven by ZTE's troubles. Chinese carriers did not reduce their activities in light of ZTE's absence from the market, Cignal AI reports.
The rest of the Asia-Pacific region also exhibited strong spending during the quarter, with Japan a particular bright spot. Here, Western suppliers such as Ciena and Nokia benefited more than Japanese firms such as Fujitsu and NEC.
The Cignal AI "Optical Hardware Report" includes market share and forecasts for optical transport hardware used in optical networks worldwide. The former analysis benefits from the newly developed Optical Hardware Market Share Tracker. The report covers revenue for metro WDM, long-haul WDM, and SLTE equipment in six global regions and includes detailed port shipments by speed.
For related articles, visit the Business Topic Center.
For more information on high-speed transmission systems and suppliers, visit the Lightwave Buyer's Guide.