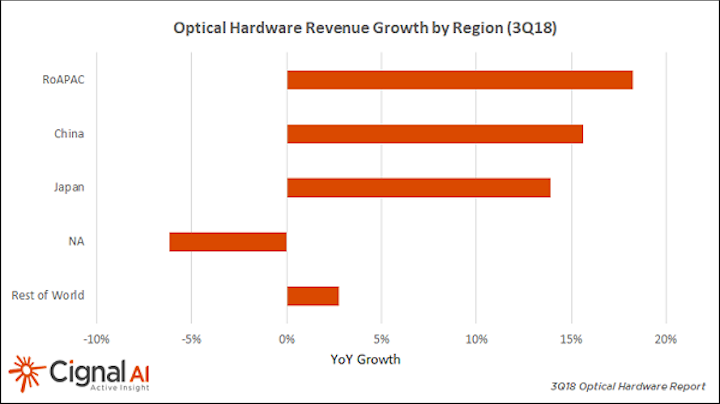 Market research firm Cignal AI has good news and bad news for optical systems vendors. Sales of optical transport systems shot upward in the third quarter of 2018, Cignal AI reveals in its latest "Optical Hardware Report." However, spending in North America declined for the eighth consecutive quarter.
Cignal AI reports double-digit sales growth in China and Japan and overall healthy activity in the rest of Asia Pacific (RoAPAC) during the quarter. The market research firm expects this momentum to continue through the year's final quarter as well.
"China bounced back more quickly than expected following the ZTE shutdown, and outside vendors Nokia and Ciena saw a triple-digit increase in Japan during the third quarter," said Scott Wilkinson, lead analyst, optical hardware for Cignal AI. "RoAPAC contributed to the success in Asia as well. While we expected a slight slowdown this year there will likely be net increases for the year, driven largely by sales in India."
However, the situation in the Americas isn't as rosy. Despite strength in the cloud and colocation providers market, overall numbers in North America remained depressed in 3Q18. Sales in the Caribbean and Latin America (CALA) region also disappointed; while Cignal AI had expected a rebound from a soft 2Q18, CALA also saw sales slip again.
The Europe/Middle East/Asia (EMEA) region balanced out this bad news somewhat. Double-digit growth during the third quarter set the stage nicely for vendors, who can anticipate traditional fourth-quarter spending increases to finish out the year. The EMEA region also exhibited strength in the second quarter of this year (see "EMEA 2Q18 optical systems spending up, North America down: Cignal AI").
Cignal AI's "Optical Hardware Report" is issued each quarter and examines optical equipment revenue across all regions and equipment types. The analysis is based on financial results, shipment information, and guidance from individual equipment companies; forecasts represent analyst expectations for overall spending trends for equipment types within the regions.
For related articles, visit the Business Topic Center.
For more information on high-speed transmission systems and suppliers, visit the Lightwave Buyer's Guide.