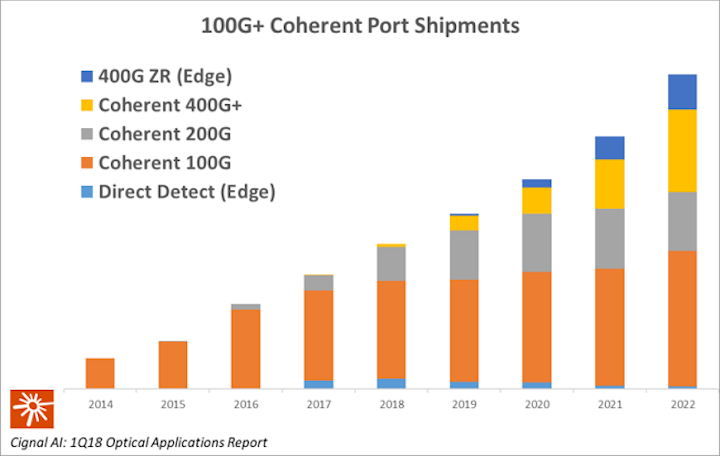 In its recently released "1Q18 Optical Applications Report," Cignal AI identifies 400G and edge coherent 100G as technology winners over the next several years. The promise of a new generation of pluggable coherent modules has led the market research firm to boost its forecast for 100G deployments in 2021 and 2022, even as 400G increases its market share (see "Cignal AI bullish on 400G coherent").
"Starting this year, 400G speeds will be the primary source of growth in the optical equipment market," said Andrew Schmitt, lead analyst for Cignal AI. "However, there will be a significant turning point in 2021/2022, when new, low-cost 100G pluggables open up markets for coherent technology at the edge of the network."
Those edge network deployments of 100G and 400G coherent modules likely will come at the expense of direct detect modules, which should see their deployment peak this year (see graph above). However, Cignal AI has reduced its estimated deployments of 400G ZR modules in 2020-21, as the performance such modules have demonstrated likely will limit its appeal to primarily the three large cloud vendors during the first two years of availability, the market research company believes.
As far as the platforms in which such modules will be used, Cignal AI is bullish on the emerging generation of compact optical transport systems. Compact modular platforms will attract half of all metro WDM spending in North America by 2021, the company predicts, thanks in part to their ability to support flexible, disaggregated network architectures. Ciena will benefit most from this trend, according to Cignal AI; the market research firm said Ciena attained the top spot in the compact modular segment for the first time in 1Q18 and will keep it for the foreseeable future thanks to a strong position in 400G.
Meanwhile, Cignal AI sees headwinds for packet-OTN platforms, particularly in North America. Fortunately for manufacturers of such platforms, European incumbent network operators favor the platforms, which has led Cignal AI to increase its sales forecast in the new report for packet-OTN sales in the region.
The Cignal AI "Optical Applications Report" includes market share and forecasts for revenue and port shipments for 100G+ coherent and compact modular and advanced packet-OTN switching hardware. The report features revenue-based market size and share for the hardware categories, and port-based market size and vendor market share for 100G+ shipments.
For related articles, visit the Business Topic Center.
For more information on high-speed transmission systems and suppliers, visit the Lightwave Buyer's Guide.