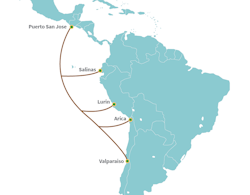 Telxius
Service provider América Móvil and wholesale infrastructure company Telxius say they will partner to deploy a submarine cable along the Pacific side of Latin America. The cable will run from Guatemala to Chile. The collaborators expect the submarine network to be ready for service by the end of 2020.
The 7300-km, six-fiber-pair submarine cable will have an estimated initial capacity of 108 Tbps. Puerto San José in Guatemala, and Valparaíso, Chile, will be the end points. Additional landings will take place in Salinas, Ecuador; Lurín, Peru; and Arica, Chile. The two companies say that the five landing stations are already in place and that initial undersea survey work has begun.
"América Móvil investment in this new ultra-high-capacity submarine cable confirms our commitment to provide the best service to customers, with the latest technology. The alliance with Telxius is a valuable partnership with one of the most important stakeholders in this arena," commented Oscar Von Hauske, América Móvil's COO.
Telxius is an infrastructure organization Telefónica spun out in 2016 to offer wholesale services (see "Telefónica spins out infrastructure assets to create Telxius"). "At Telxius we are convinced of the merits of sharing infrastructure and we are pleased to join forces with America Móvil on this new project. Not only will it allow us to deliver the latest technology and best latency to serve our partners and customers in key markets in Latin America but we will also benefit from significant efficiencies working together with América Móvil in the deployment of this new cable," added Guillermo Ansaldo, Telefónica's chief global resources officer.
For related articles, visit the Network Design Topic Center.
For more information on high-speed transmission systems and suppliers, visit the Lightwave Buyer's Guide.