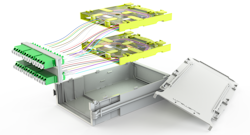 Wirewerks says it has added Base-8 elements to its NextSTEP Technology Fiber Management System (see, for example, "Wirewerks offers NextSTEP FLEX Module MPO-MPO cable assembly" and "Wirewerks NextSTEP Wall Mount Enclosure"). The NextSTEP 3-Series Modules (3S Modules) are designed to enable simplified cable management installations and maintenance via a fast, tool-less, slide-in/slide-out installation process and easy front panel port access, says the company.
There are two 3S Modules:
The NextSTEP 3-Series Distribution Module is a slide-in fiber management module for Base-8 requirements that supports one to three MPO connectors at the rear of the cassette and up to 24 front-facing LC ports per module.
The NextSTEP 3-Series Loaded Patch Module houses incoming pre-terminated cable assemblies or

provides fusion splicing

for up to 24 LC or 12 SC ports on the front of each module. It enables up to 96 LC or 48 SC ports in 1RU.
The 3S Modules feature factory-terminated and -tested low-insertion-loss fiber connections with the customer's choice of fiber and connector types.
"We are thrilled to now offer NextSTEP 3-Series Modules as part of our NextSTEP Technology and extensive portfolio of optical fiber connectivity solutions," commented Jais Cohen, president of Wirewerks. "Our proven technology represents the natural evolution of fiber management systems that combines fiber patching, distribution, splicing, C/D-WDM, and 40/100GbE MPO/MTP. The 3S Modules continue to deliver simplicity, flexibility, scalability, and adaptability while accommodating the surging demand of data center, enterprise LAN, and broadband network applications. These modules are changing the landscape of fiber connectivity management and Wirewerks is receiving outstanding feedback from a Tier 1 carrier."
For related articles, visit the Network Design Topic Center.
For more information on cable management systems and suppliers, visit the Lightwave Buyer's Guide.