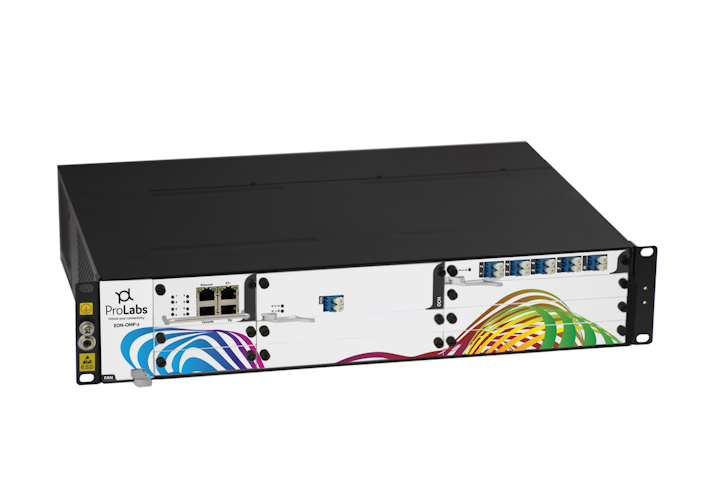 Optical networking and connectivity technology provider ProLabs has launched the EON-OMP-2 platform, a modular system of "Active Solutions" that network operators can configure for their requirements. The first module out of the gate is the EON-OMP-2-OCM optical channel monitor.
ProLabs envisions the EON-OMP-2 as a platform that can meet changing network requirement with various combinations of expansion cards. The cards will include optical amplification (both EDFA and Raman variants), 3R OEO OCM, optical switch, muxponder, transponder, and optical time domain reflectometer (OTDR) capabilities, "to name a few" in the words of a ProLabs press release.
"The Active Solutions portfolio includes a range of new and innovative optical transmission and data services products. This launch advances fiber management systems, enabling the creation of powerful 5G-ready infrastructures and enhances broadband and Remote-PHY network rollouts," commented Anthony Clarkson, technical director at ProLabs. "Our Active Solutions portfolio extends our suite of fiber infrastructure solutions available to support critical applications, strengthening our position as the leading end-to-end solutions provider in market. This portfolio gives operators the tools to truly maximize their fiber infrastructure as they move to become 5G ready."
The EON-OMP-2-OCM enables network management center engineers to remotely monitor and troubleshoot network issues before rolling trucks. It provides visibility of remote DWDM channel signal characteristics such as to receive power, receive wavelength, and optical signal-to-noise ratio (OSNR). ProLabs states that the OCM module has undergone six months of pilot testing prior to its launch.
For related articles, visit the Test and Measurement Topic Center.
For more information on test instruments and suppliers, visit the Lightwave Buyer's Guide.