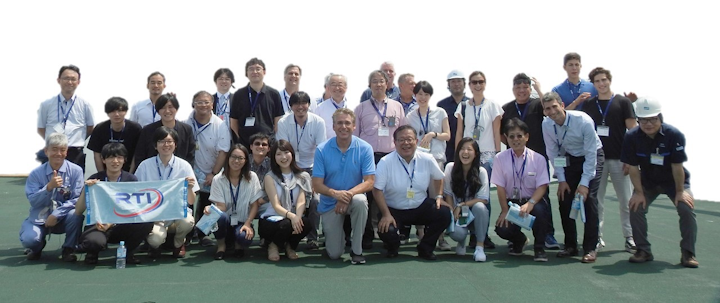 RTI Connectivity Pte. Ltd. has announced the initiation of installation activities for the Japan-Guam-Australia North Cable System (JGA North). The submarine cable will run between Minami Boso, Chiba, Japan, and Piti, Guam, and is scheduled to be ready for service in the first quarter of 2020.
The subsea cable system will feature submersible repeaters from NEC Corp. and submarine cable from OCC Corp. JGA North will have an initial design capacity of 24 Tbps, which is expandable by adopting a higher optical signal modulation format via NEC transponders. In Japan, the undersea cable will land in Minami Boso; the landing site will link to a pair of Tokyo data centers via dark fiber. The data centers will offer access to the rest of RTI's network.
In Guam, JGA North will land at the new Gateway Network Connections, LLC (GNC) facility. GNC is a strategic partnership between RTI and GTA announced this past June. RTI says GNC will enable rapid provisioning and improved connectivity not only to such RTI cables as JGA South, Hong Kong-Guam (HK-G), and Southeast Asia-United States (SEA-US), but also for future Guam-landed cables.
RTI says it has planned the JGA North cable system to ensure its reliability. "JGA North avoids passing through existing areas where seismic activity has been an ongoing issue," commented Masahiro Soma, RTI's chief technology officer. "JGA North's route between Japan and Guam not only increases network reliability, but it also reduces latency between certain destinations, such as Tokyo-Sydney. RTI's ongoing investment in landing infrastructure also improves delivery."
Added Soma, "RTI's expansive network design includes backhaul and city POPs that will greatly improve accessibility and offer streamlined provisioning processes and timeframes as RTI has total control over its end-to-end services. When commercially in-service next year, 10G and 100G circuits will take only days to provision instead of months."
RTI hosted a cable loading ceremony in August to mark the beginning of construction. Among the attendees was Dr. Jun Murai, founder of WIDE Project and professor at Keio University in Tokyo, Japan, as well as others from Keio University and the WIDE Project. "The JGA North cable meets the needs for the development/enhancement of the academic data highway for the enhanced research and collaboration for various academic initiatives," said Dr. Murai. "RTI's unique cable network design with Guam-as-a-hub enables connectivity to institutions in key countries throughout the Asia Pacific region as well as onward connectivity to the United States."
For related articles, visit the Network Design Topic Center.
For more information on high-speed transmission systems and suppliers, visit the Lightwave Buyer's Guide.
To stay abreast of fiber network deployments, subscribe to Lightwave's Service Providers Newsletter.