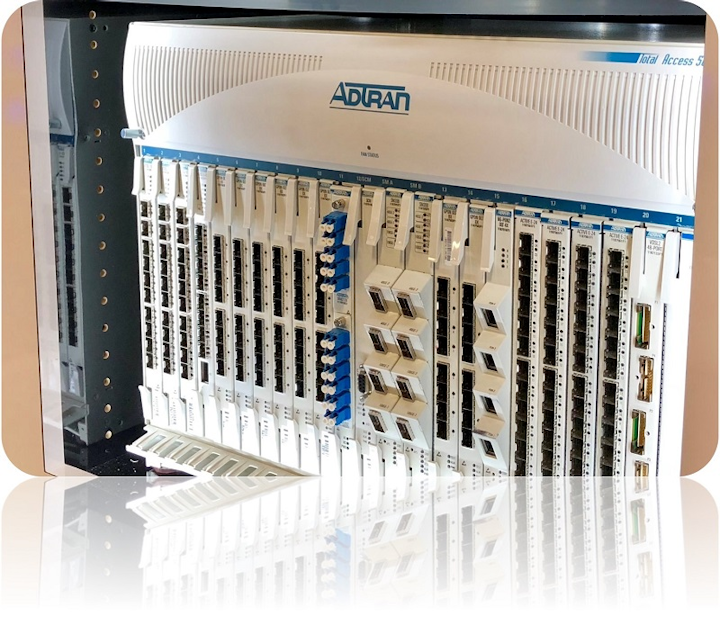 ADTRAN
ADTRAN Inc. (NASDAQ:ADTN) has unveiled the SM200 100G Switch Module, which adds 100-Gbps transport wavelength capabilities to the Total Access 5000 (TA5000). The SM200, which ADTRAN sources say should begin shipping very shortly, boosts the TA5000's uplink capacity to 560 Gbps and switching capacity to 1.2 Tbps. A TA5000 now can scale to support more than 20,000 customers per system, the company adds.
Each SM200 card will support both 2x100G and 2x40G, the former via QSFP28 optical transceivers and the latter with QSFP+ modules. The SM200 follows on from the previous SM40, which supports 4x10-Gbps transport; it has the same form factor as the SM40 and therefore can be plugged into the same slots in fielded TA5000 platforms. ADTRAN Product Line Manager Javier Lopez and Head of Strategic Solutions Marketing Kurt Raaflaub say the increase in transport horsepower becomes necessary as more operators adopt 10G PON approaches as well as support higher-rate services in other ways. The SM200 also features Ethernet Ring Protection Switching (ERPS) support and can be used for deployments in both central office (CO) and remote terminal (RT) locations.
While the SM200 hasn't reached general availability, ADTRAN has delivered beta versions to a few customers, including Totah Communications, a service provider headquartered in Ochelata, OK, that serves rural communities in Oklahoma and Kansas. The company has deployed SM200 modules to aggregated traffic from TA5000 systems deployed in its access network. "With the 100G available, we have the scale needed to expand the range and reach of our fiber-to-the-premises services without the added capital and operational impact of adding a new platform to our network," said Totah Communications President and General Manager Mark Gailey. "ADTRAN's ability to deliver one platform with the Total Access 5000 that can scale to meet today's needs and tomorrow's is the type of streamlined, operationally efficient system that makes it the ideal solution as we expand our fiber rollouts. There is no need to maintain two network infrastructures. This allows Totah to use USF dollars to continue to get the speeds our customers demand and the FCC requires."
For related articles, visit the Network Design Topic Center.
For more information on high-speed transmission systems and suppliers, visit the Lightwave Buyer's Guide.
To stay abreast of optical network technology, subscribe to Lightwave's Service Providers Newsletter.